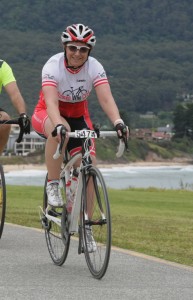 I like to think of myself as a bit of a cycling evangelist. That doesn't mean I give regular sermons about cycling but through this blog, my job and other social occasions I love the opportunity to share my love for cycling with others, particularly women. So here's 10 reasons why you should think about cycling. They are in no particular order (just the order they jumped into my head). The initial list took me about five minutes to write so you can see that I'm completely enthusiastic about this subject.
1. Fitness
Please note that I haven't called this point 'weight loss' because that's not what it's all about. Fitness is a key benefit of cycling. I'm in my forties and I'm fitter than I've ever been in my life. I also weigh more than I did before I started cycling five years ago, but I'm actually leaner as a result of all those hours on the bike.
2. Café visits
This is one of my favourite benefits. All the road cyclists that I know go to the café after a ride. This means you get to have a good chat and you get to eat yummy food because you've just 'pre-burnt' your calories. I don't actually drink coffee (because I hate the taste of it) but I don't let that stop me being part of the café culture. Hot chocolate doesn't look that different!