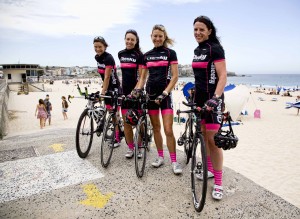 If you think the Gong Ride or Around the Bay is a serious challenge, then think again. A few weeks ago I was contacted by a team of women who are training for a huge race/relay called Race Across America that takes place each year in June. Last year I wrote about two American women tackling it and this time it's a team of four Australian women calling themselves the Veloroos – Natasha Horne, Sarah Matthews, Julie-Anne Hazlett and Nicole Stanners.
Race Across America known as RAAM is a race but instead of being in stages it is one continual ride similar to a time trial. Once the clock starts it does not stop until the finish line. RAAM is about 30% longer than the Tour de France and is not limited to professional cyclists. While solo racers must qualify to compete, anyone may organise a team and race.
Racers must traverse 3000 miles (4,828 km) across 12 states and climb over 170,000 vertical feet (51,816 metres). Team racers have a maximum of nine days and most finish in about seven and a half days. Teams will ride 350-500 miles a day, racing non-stop. Solo racers have a maximum of 12 days to complete the race, with the fastest finishing in just over eight days. Solo racers will ride 250-350 miles a day, balancing speed and the need for sleep.