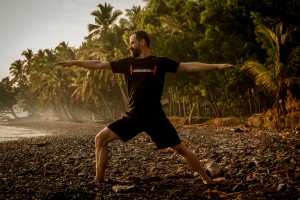 I was recently approached by a Sydney-based yoga/cycling enthusiast who has developed his own yoga classes just for cyclists called Pedal Stroke Yoga. As a fan of yoga I was intrigued by Angelo's upcoming workshops so asked him a few questions about what's behind it.
How can yoga benefit cyclists?
I believe that Yoga is the yin to the cycling yang. Both of these complimentary halves work together to create a 'high performance' version of you as a cyclist and also as a human being. My Pedal Stroke Yoga workshops are designed to put back what your cycling takes out. When you are in a Pedal Stroke Yoga class you are essentially performing a full service and maintenance on your body and mind, the same way you do on your bicycle. Your body will outlast that expensive carbon frame bike you own, so why not take the same care with your body that you do with your bike. That way when you do get back on your bike to race, or go on a ride, your body will perform to its maximum potential and maybe even beyond.