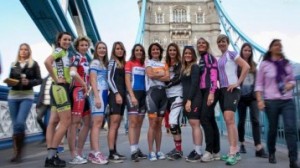 I was really interested to read over the weekend about a new women's international cycling initiative called Strongher. I must admit that when I first saw the name I thought it was some sort of weird European spelling for the word 'Stronger', but on my second attempt I realised it was the combination of 'Strong' and 'Her' which is quite clever.
The founders of the movement, aiming to "give women a stage to show themselves", are a large bunch of female professional cyclists. It was launched in London over the weekend by professional cyclists Marianne Vos, Hannah Barnes, Lauren Kitchen, Manon Carpenter, Marijn de Vries, Lucinda Brand, Juliet Elliott and Rebecca Charlton.
They describe it as a unique international movement with the impressive title of "Strongher, The Stage for Women Who Ride" with the goals of the continued development of women's cycling, giving women a stage to show themselves and getting more women on bikes.