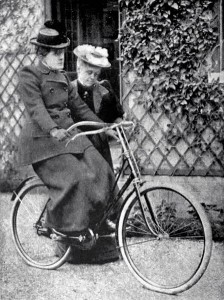 I know that some of you are probably not into learning about history, but it was my favourite subject at school so you'll have to indulge me.
Recently my boss John (Ashfield Cycles) mentioned to me that the first ever women's bike race in Australia actually took place in Ashfield (in Sydney's inner west). I must admit that I was a bit dubious at the time so I decided to delve into it a bit more and headed to the Ashfield Library where I found a local publication with a whole chapter dedicated to it. So I won't bore you with the whole tale, but here's a few highlights.
In February 1888 (that's 127 years ago) a women's cycling race was organised at the now defunct Ashfield Recreation Grounds. Ads were placed in The Sydney Morning Herald which listed a two-mile champion race; one, two and three mile handicaps; a half-mile handicap race; and a half-hour tournament all for 'ladies', run over three days.