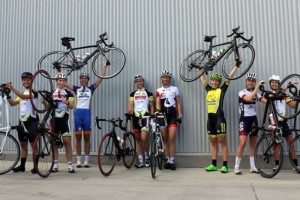 It was great to see some ABC coverage for a women's cycling training/selection camp last week in Canberra. It's interesting to note that after reading this story you would assume that Cycling Australia is behind this great initiative, but I believe it's actually Rochelle Gilmore who made a commitment to take six female cyclists to Europe this year. Rochelle who owns and manages Wiggle Honda in the UK committed to this idea after Cycling Australia suspended its funding of the women's elite program in Europe. Well done Rochelle.
Here's the story as it ran on the ABC online:
A group of Australia's most promising female cyclists have been put to the test in Canberra this week for the opportunity to join the Australian cycling team on tour in Europe.
The riders will remain under the close watch of selectors at the Australian Institute of Sport (AIS) where they are in the final days of the gruelling knock-out style selection camp, that will conclude on Sunday.
Eight hopeful cyclists have made it through to the final days of the camp, from an initial group of 18, with further cuts to be made in the coming days.