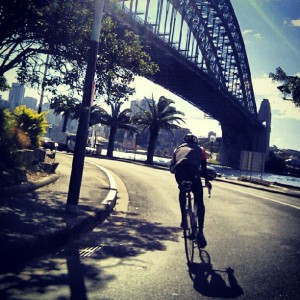 There's been a lot of media space devoted to the issue of bike riders using the roads of late, so I thought I'd put my 'two bobs worth' forward.
You'll note that I haven't called this blog post 'Cars v Bikes' because I really don't think that's what it's about. From my observation many drivers (and by no means all drivers) think that they are entitled to use the roads exclusively and that cyclists should vacate 'their' roads or at least pull over and let them pass.
As a road cyclist I think I'm pretty considerate. I do most of my riding early in the morning to avoid heavy traffic, I choose not to ride on major roads except where they can't be avoided, I obey the road rules, I use front and rear lights early in the morning and late in the afternoon, and I travel at a speed where I rarely hold up a driver for more than a few seconds.
And yet, nearly every time I ride my bike I encounter an aggressive driver who either takes my right of way at a roundabout, comes up very fast behind me and then overtakes in a dangerous manner, and occasionally I've been beeped at, or yelled at by impatient people.