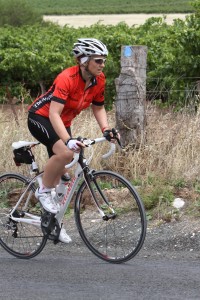 About ten years ago, long before I had thought about taking up cycling, I used to go on a morning walk. It was a brisk walk but it was still just a walk. I had been doing the same thing for many years for exercise, but one day I decided to start jogging instead so that I was 'getting more bang for my buck'. I figured, if I was going to exercise for 30 minutes every morning, then I should up the intensity to gain more in the short period of time.
Years later I realised that the same idea was behind interval training, but because the intervals are so hard you can't sustain them over long periods of time. But they certainly give you more 'bang for your buck' and help you make real improvements in your fitness. I've recently started doing intervals as part of my ongoing training program on the bike and I'm seeing real results.
I prefer to do intervals when I'm on the stationery trainer in my garage because I can concentrate on metrics like my cadence, time, gear selection and heart rate. But I plan to do more of them out on the road as I get more practiced.