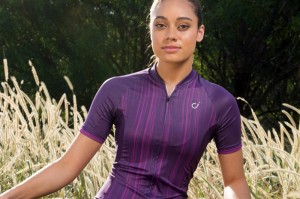 When I first started riding about five and a half years ago I understood the need for lycra clothing, but I set out to buy the cheapest I could find, and at the time I thought this was okay. The result was that I look pretty ordinary and worse still my new lycra clothing didn't fit properly, plus it certainly didn't last the regular washing it required.
I soon learned that I needed to spend a bit more and be more discerning about the lycra clothing I chose to wear.
Fast forward to now and I'm very conscious about how I look in my riding kit, how it fits and how it washes.
So it's been a pleasure to try out some of the items from the new Velocio range of women's cycling kit. I purchased (albeit at a discount because I'm writing this review) the 'Paint' short sleeve jersey, signature bib knicks and light long sleeve jersey.
The range is the brainchild of Australian Kristy Scrymgeour who among other things is the owner/manager of women's pro cycling team Specialized-lululemon. Kristy told me about her new venture when we met up in January when she was home in Sydney for her summer break.