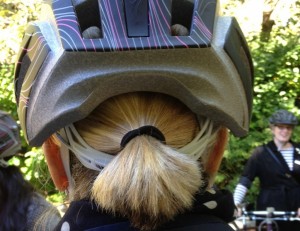 The subject of bicycle helmets seems to raise all sorts of issues. Should they be compulsory? Do they actually save riders from head injury? Well I'm not here to debate all that, but I thought it might be helpful to provide a few tips on buying the right helmet for female cyclists.
For what it's worth, I don't think helmets should be compulsory, just like I don't think seatbelts should be in cars. My thoughts around this subject are more to do with the 'nanny state' idea than anything else. I believe that we should take personal responsibility for our own safety and those of our children. That's not to say that I don't wear a seatbelt or a helmet, but it should be my choice, not some faceless politicians.
But I'm a law abiding citizen and in the country in which I was born and choose to live bicycle helmets are compulsory, so I obey the law and wear one. Just to clarify one point, if helmets were not compulsory I would still choose to wear one while riding my road bike, particularly on the road but I would like to have the choice not to wear one when I'm undertaking a more leisurely style of riding and not riding on the road.
I work in a bike shop so sell helmets on a daily basis and I often get asked by my customers (both men and women) – How does it look? And I usually answer – Like a helmet! So anyone who thinks they look really good in a helmet is probably kidding themselves. They don't look great but they serve a purpose.