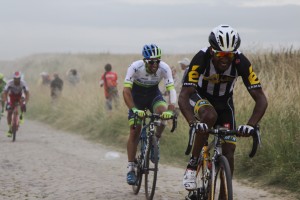 My partner and I have just finished our third trip to the Tour de France so I thought I would share a few tips for following the mighty race. I know it's not strictly a women's cycling topic but I know many female (and male) cyclists who would like to undertake a similar trip.
Choose your transport wisely
Lots of people follow the Tour in campervans but it can also be tackled by car and either camping of staying in hotels. We hired a campervan so I can't really tell you about the other options and in my opinion a camper is the ideal way to see it. You can park at the side of the road in just about any location making it completely flexible.
If you go with the camper option make sure you book early. A lot of companies are booked out in October the year before because that's when the full route for the following year is announced. Also make sure you check inclusions on the hire like bed linen/towels, kitchen equipment and outdoor furniture. A lot of hire companies charge extra for just about everything.