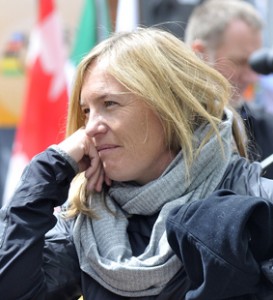 A few months ago I was lucky enough to meet up with Kristy Scrymgeour who is the owner and manager of the women's pro team Specialized-lululemon. Kristy was in Sydney enjoying her annual pilgrimage to her parents' beachside home. I originally wrote this article for a UK website which they published but buried a bit in another article so I thought I'd share it again………….
Kristy Scrymgeour, despite living in Europe and the US for many years is still very much an Aussie girl at heart. She's humble, and despite being fairly softly-spoken she gets fired up when she talks about her involvement in women's cycling.
Like most Aussie kids she rode a bike as a child around her home in Sydney's southern suburbs, but didn't think of cycling as a serious sport until she reached university. Her opportunity came when the University cycling team was looking for an extra team member to race at the University Games and she rather bullishly put her hand up. She was studying science teaching at the University of Sydney and had only recently started cycling, after her boyfriend at the time gave her a second hand bike to ride.