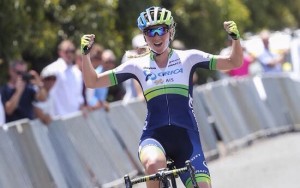 I was lucky enough to catch up with dual Australian road champion Gracie Elvin via email. Gracie is currently racing the European season and is a member of Orica-AIS. I enjoyed watching her win her second national road title in January last year. Enjoy.
Q: How did you get started in cycling?
A: I always rode my bike a lot when I was younger around my suburb, to school and even to visit my horse who was kept nearby. I loved the MTB days that my high school had, and when my dad set up and old road bike for me when I was 12 I was hooked straight away. I went to a junior skills course and did lots of the local bunch rides and club races until I was ready to race interstate.
Q: In 2014 I watched you win the National road race in Victoria and stand proudly on the podium, how did it feel to win that race and the other national title in 2013?
A: Both my national title wins mean a lot to me. The first time I was just so shocked that I had done it! It wasn't really the plan for me to win that year, even though it was possible. I was grinning for days after. The next year (2014) the win meant a lot more to me. It felt like I had really proven myself and shown that I am one of Australia's best.