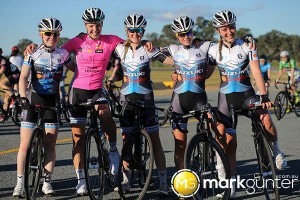 One of my personal mandates for this blog is to promote women's cycling at all levels so this week it's the top ends turn. Recently I caught up with Megan O'Neill Johnston who the Assistant Manager and Head Soigneur for the Canberra-based Suzuki Brumby's women's cycling team who had some very interesting insights into how a cycling team runs…..
Q: How long has the team been going?
Suzuki Brumby's is a Canberra based team that started in 2008 and originally fielded both a men's and women's National Road Series (NRS) team, however in 2014 we are an all-female affair.
Q: How many members do you currently have?
We currently have 9 cyclists in the team; 7 who are based in Canberra, 1 in Victoria and 1 in NSW. We are all really close, not only as team mates, but as friends and I think this contributes significantly to the success and character of the team. There is a lot of comradeship and support for each other which I think is imperative in such a mentally tough sport.