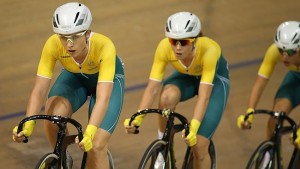 It sounds idyllic, riding your bike in the city of lights, but for eight Aussie women it's more like lots of hard work for the next couple of days, as they take on the world's best in the 2015 UCI Track Cycling World Championships.
There are three female sprinters and five female endurance riders representing Australia so I thought it would be nice to profile them here, because although Anna Meares in a household name the other seven aren't quite so well known, at least not beyond the cycling community.
The three sprinters are Anna Meares, Stephanie Morton and Kaarle McCulloch and the five endurance riders are Ashlee Ankudinoff, Amy Cure, Melissa Hoskins, Annette Edmondson and Rebecca Wiasak.