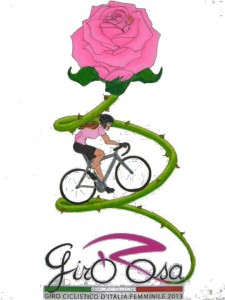 One of the things I said I would do when I started this blog nearly two years ago was to provide regular updates about women's professional cycling, and while I've done a few cyclist profiles, I haven't done nearly enough to inform my readers about women's pro cycling. So here's an attempt at least to get you all on board with an update about one of the biggest women's pro races of the year – the Giro Rosa, which was formerly known as the Giro Donne.
Firstly, I have to say that I can't fathom why the Giro Rosa and its predecessor the Giro Donne is run at the same time as the very, very high profile men's race that I know you've all heard of – Le Tour de France. But that aside, let's focus on some positives.
The Giro Donne was a women's Italian stage race that began in 1988, and has in the past been known for tackling some of Italy's most difficult terrain, not unlike the Giro D'Italia raced by the men in May every year. After last year's edition, its future was in doubt until a new organiser stepped in, renamed the race the Giro Rosa (meaning Pink Tour) and committed to run it until the 2016 edition.