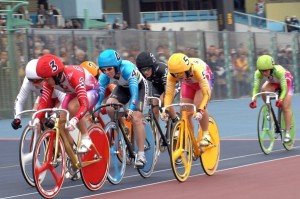 If you've ever been to watch a track cycling event you've probably watched a very unusual race called the Keirin. I've always enjoyed it and for a number of years I've been aware that it's a big sport in Japan where it was developed. Men's Keirin racing is very popular but women are also involved and it's growing. Here's a few insights based on some research I undertook:
Keirin is a track cycling race where between six to nine riders race over about 2 km around a velodrome. It is a relatively new Olympic event, first raced by the men in 2000 and the women in 2012. Keirin has been a big part of Japanese culture since it was introduced in 1948 as an initiative to rebuild after the war. The race starts with a pace setter (typically a motorised "derny") who starts slowly but gradually increases the speed until peeling off with about 600 or 700 metres left to race. Usually the riders are travelling at about 50 km/hour by this point and have hopefully manoeuvered into their favoured position. Once the "derny" is gone the race is in full flight and the riders fight to take line honours.
The women follow international competition rules in Japan to keep things safer: while the men are renowned for shoulder barging and head butting through their racing, Girl's Keirin is a bit more ladylike. The women use colourful disc wheels and tri-spokes provided by the JKA –the same colour wheels as the lane colour they draw.