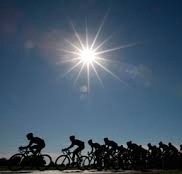 When you live in a country like Australia it is pretty difficult to avoid heat and sun exposure while you're riding your road bike. The summer sun can be pretty fierce so here's my tips for handling it.
Ride early and late
I do most of my riding early in the morning. There are a number of reasons for riding early but one of them is definitely sun exposure and heat. You'll also avoid traffic if you ride early in the day. But if you can't ride early in the morning then try a twilight ride to avoid the sun.
Stay hydrated
Make sure you carry at least one full waterbottle on your bike, if not two. You can buy insulated bottles like the ones I use from Camelbak. I fill them up with fridge-cooled water before I go out and the water stays cool for hours. If you're going on a long ride (more than say 60 km) then you should consider a sports drink in a second bottle. This helps with hydration but also energy. There are always places to stop and refill bottles, particularly on organised rides.