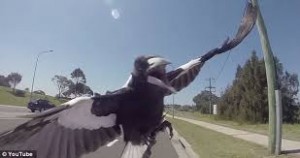 A couple of weeks ago a good friend of mine sent me a distressed message via text to tell me she'd been attacked by a couple of magpies on her morning ride and come off the bike, injuring herself and damaging her stead. And since her story I've heard quite a few tales of woe about bird attacks so I thought I should tackle this topic again.
Native birds such as Australian Magpies are highly protective of their eggs, nest and young and will often swoop at unsuspecting passers-by if they feel threatened. Other native Australian birds that are also common culprits include butcherbirds, kookaburras and plovers, but even invasive species like Indian Mynas can attack at this time of year. Magpies seem to cop the majority of the blame but from my experience butcherbirds are more vicious.
Only a small proportion of birds swoop on people and these often have a preference for a few individuals that the birds recognise or certain types of 'targets' like cyclists. A magpie will only defend its nest within a 'defence zone'. For cyclists, this is usually an area within 150 metres.