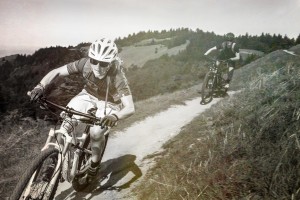 If you're a regular reader of this blog you'll know that I'm a dedicated road bike rider and have almost zero experience on a mountain bike. So I was pretty nervous when I was invited to test a few mountain bikes at the recent Specialized 2015 dealer launch.
I was very fortunate that I had some awesome mountain bikes to trial. The main one I rode was the brand new S-Works Era, a women's dual suspension 29er which is an amazing bike but I definitely felt I didn't do it justice. I was lucky enough to ride with an experienced mountain biker, Kate who owns the Specialized store in Batemans Bay. Kate was as great tutor and taught me to take baby steps rather than leap right in.
So I thought it would be useful if I shared a few things I learnt from her. I've also borrowed a few ideas from US mountain bike enthusiast Selene Yeager who has some great tips in her book Every Woman's Guide to Cycling.