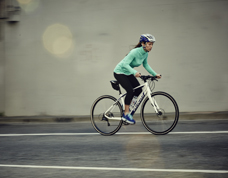 As regular readers of this blog probably know I work in a bike shop and one of the most regular questions I'm asked by both men and women is: Should I buy a flat bar road bike and a drop bar road bike. So I thought it would be useful to talk about the pros and cons of both types of road bike.
Firstly I have to confess that I ride a drop bar road bike and love it, so I won't be changing to a flat bar any time soon, but I can see some merit in them, and for some riders they are definitely the best option.
A flat bar road bike is similar to a standard road bike, but with flat bars as opposed to the drop bars seen on most road bicycles. Some people call them hybrids but strictly speaking a hybrid normally has front suspension which  flat bar road bikes do not.