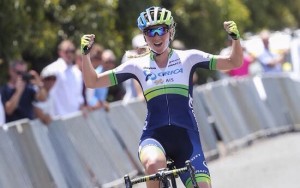 I was lucky enough to catch up with dual Australian road champion Gracie Elvin via email. Gracie is currently racing the European season and is a member of Orica-AIS. I enjoyed watching her win her second national road title in January last year. Enjoy.
Q: How did you get started in cycling?
A: I always rode my bike a lot when I was younger around my suburb, to school and even to visit my horse who was kept nearby. I loved the MTB days that my high school had, and when my dad set up and old road bike for me when I was 12 I was hooked straight away. I went to a junior skills course and did lots of the local bunch rides and club races until I was ready to race interstate.
Q: In 2014 I watched you win the National road race in Victoria and stand proudly on the podium, how did it feel to win that race and the other national title in 2013?
A: Both my national title wins mean a lot to me. The first time I was just so shocked that I had done it! It wasn't really the plan for me to win that year, even though it was possible. I was grinning for days after. The next year (2014) the win meant a lot more to me. It felt like I had really proven myself and shown that I am one of Australia's best.
Q: Your team Orica-AIS is dominated by fellow Australians, is it like one big happy family? How much do you actually see each other?
A: We are definitely like a big family at ORICA-AIS. Because Australians make up the majority of the team it has a real Aussie atmosphere of humour and friendship. The European riders are well suited to our mentality and we call them the "honorary Aussies". Like any team we can definitely have our off moments, but one of our biggest strengths is communication and honesty so we make sure that everyone is happy and nothing gets left too long to get worse. Because we are a relatively small team of 12 riders we see eachother all fairly often as the race roster is constantly rotated. About 5 of us live full time in the Varese area of Italy with other riders coming in for shorter times.
Q: Are you studying while you undertake your pro cycling career? What are your plans post-racing?
A: I have been studying a Bachelor of Science (majoring in Biology and Nutrition) part time since 2009. I don't have much of it to go so I am pretty happy to have achieved a degree while racing full time! I think it's a good thing to have something else to do to keep your days structured and your mind off cycling for a little while. I'm still not sure yet what I'd like to do after cycling but with my degree and life experience I think something in health and fitness is where I'll most likely end up.
Q: What role do you think social media can play in promoting women's cycling? What else can we do to raise the profile?
A: Social media has really helped women's cycling, and women's sport in general, because it is so much more easy to get coverage out into the world than it used to be with only TV and radio. While women's cycling would still greatly benefit from better TV coverage, we can still use social media to encourage a better following and demand for our sport. It's also a great way to introduce all of the interesting characters in our sport. There are some amazing women who are smart, funny, gorgeous and talented in many ways who already have a good fan following. These personalities bring so much more depth to an already exciting sport. I think continuing to show women's cycling and it's many individuals as exciting and interesting to watch through social media is important in getting better TV coverage.
Q: What's your favourite race of the year?
A: I love the Spring Classics, and my very favourite is the Tour of Flanders. There is so much history to this race, the course is very hard but thrilling, and the crowds are always amazing. I would love to win this race one day!
Q: How can we get more women to take up cycling (at all levels)?
A: I think a lot of brands are doing a good job to make cycling cool and welcoming. Women want to be part of something that isn't intimidating, and having a good inviting vibe is important. I think continuing with women's only ride days will help introduce them to the sport where they can then gain the confidence to race and train with both women and men. Having good equipment for women is also important. Women want to look and feel good while riding and racing. Lastly, exposing women through the media to top riders who are great role models for the sport will help to encourage them to take up cycling. There are many professional women who have a great life balance and make it look stylish and fun!