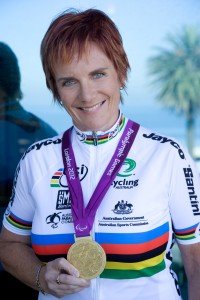 I was contacted a couple of weeks ago by the PR agency promoting a Melbourne-based mass particpation cycling event called the MS Melbourne Cycle being held on Sunday, 19 April. One of the Ambassadors of the event is an Australian Para-cyclist who was diagnosed with MS 17 years ago, so I caught up with Carol Cooke via email.
Q1: Why did you decide on cycling as your sport after your MS diagnosis?
I didn't really decide on cycling as a sport after my diagnosis. I had always been a swimmer and continued to swim after my diagnosis. In 2005 I was asked by the Australian Paralympic Committee to come to a talent search day. When I did I found that I was 24 years older than the oldest person there but I went through the testing and a couple of weeks later I was asked to take up the sport of rowing. Rowing was a new inclusion in the Beijing Paralympic Games. I did take it up and made the national crew in 2008, we attempted to qualify for Beijing but unfortunately missed by 0.8 of a second. I continued rowing and competed at the 2009 World Championships where our crew came 6th, so I figured that I would be in London for rowing. Unfortunately in 2010 Rowing Australia decided they weren't interested in our crew. In early 2011 one of my rowing team mates called me, she had taken up Para Cycling and told me that there was a Trike category in Para Cycling. I had been riding a trike just as cross training back and forth to rowing. So my first competition was in April of 2011 at the National Para Cycling Championships and I haven't looked back.