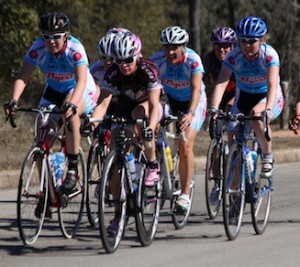 Earlier this year my cycling club LACC started a women's only bunch ride which I was asked to lead. It started out as part of a pilot program for women's bunch rides under the auspices of Cycling NSW, and when the pilot program concluded at the end of March, the regular participants voted to keep going with the weekly ride.
I was very happy to continue with it and get real buzz out of encouraging other women to learn more about road cycling and riding in a group.
It's a straightforward ride, just four short laps around Sydney Olympic Park, a total of about 25 km, followed by a mandatory café visit and we all head home around 7 am. If you'd like to know more about it visit the LACC Women's Facebook page.
Today I was enjoying reading through the latest articles on one of my favourite online cycling sites Ella Cycling tips when I came across these great posts from pro cycling Verita Stewart. They are entitled Don't be that cyclist and Do be this cyclist and I would recommend a read. They reminded me of the some of the etiquette of bunch riding so here's a few tips from me on joining a group bunch ride: