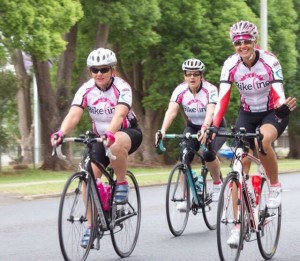 I recently met the dynamic Donnamaree Cosgrove who together with her husband Kerry owns and runs bike retail store Bikeline in Toowoomba Queensland. Donnamaree mentioned to me that her store had run a women's successful bike/body skills program last year so I asked her to fill me in on how it worked.
Q: What was the inspiration behind running the course?
A: We already have a strong women's group the Bikeline WOW (Women On Wheels) Team. Over the years the groups cycling ability has got stronger and we began to notice that we were not catering for the newcomers as well as we once did so we brainstormed some ideas with the staff (two of whom are female). One of our female staff at the time was also a Yoga instructor so the Yoga/stretching component was her idea. Our Body Geometry Fit (Specialized's bike fit methodology) guy proposed the fit component, the mechanic suggested basic mechanic skills, and of course cycling skills was a no brainer so from that concoction of ingredients, we created "Your Body, Your Bike".
Q: Who were you targeting?
A: Women in general, but specifically beginners.
Q: How many attended? How long did it run for?
A: 12 women attended and it ran for eight weeks.
Q: Are the participants now regular customers?
A: Absolutely – all now ride Specialized and all are our best ambassadors (Bikeline is Specialized concept store).