As a keen roadie I'm quite biased towards road bikes, but I'm also well aware as a person who sells bikes that a road bike is not every women's perfect bike, so here's my quick summary on a few options you could consider when buying your ideal bike. It's by no means exhaustive.
Road bike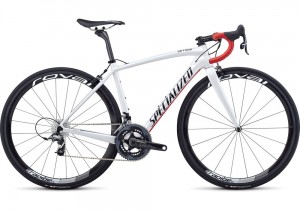 I had to start with my personal favourite! The road bike is a fast and light machine and as the name suggests it is best ridden on roads, or at least on bitumen or paved surfaces. It's skinny tyres will not last long on other terrain.
To me it's just a pure pleasure to ride my Specialized Amira. It's a women's specific road bike which means it is designed for women and that's not just about pretty colours. Specialized women's road bikes are designed to meet the needs of women and that includes the frame geometry, saddle, handlebar width, gear/brake reach and compact gearing and cranks. Lots of people, and particularly bike shop owners trying to clear last year's stock, will tell you can ride any road bike, but I'm a great believer in women's specific road bikes and I've written a few blog posts on this topic previously.