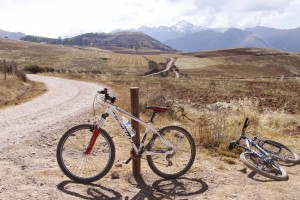 I'm writing this post while flying home from a three week holiday in Peru. Part of the tour my friend and I took was three days of bike riding, as well as a day of rafting and hiking the Inka trail.
During the tour we were well looked after by a number of guides including a guide just for our bike riding section. He was definitely over qualified for the job – Jose-Luis was the national champion of Peru in cross country mountain bike five years ago. He now prefers ride downhill so I dubbed him the loco hombre.
Our first day began at an archaeological site called Tipon near Cusco (where we stayed overnight) which is a Inka site with well preserved terraces high up on a hill that were used for farming. After we'd had a good look around including a short hike up a hill for the view we got ready for our bike debut.
The bikes were entry level hardtail mountain bike. Pretty basic but they did the trick. Our first ride was straight down the big hill which included a couple of switchbacks. We took it pretty easier to get used to the bikes and conditions but in no time we were at the bottom.