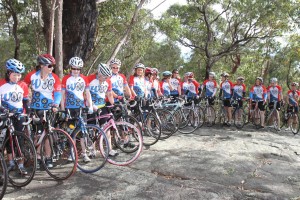 In May 2010, when Lynda Behan suggested that she and a friend get on their bikes and start a regular ride together, she had no idea that four years later she'd have 35 women who wanted to tag along, and Women of Oatley (WoO) would be born.
I met Lynda at a women's cycling discussion a couple of months ago and I was impressed by her passion and enthusiasm for encouraging other women to start riding.
Back in 2010 it was her husband that encouraged her to start riding, because he rode with a local recreational riding group and thought Lynda should join him. Lynda took it one step further and invited her friend to join her on a ride around a local park and then gradually, two by two, other women began to join them.
Oatley is a southern suburb of Sydney and Lynda and others are very fortunate to have a local park/reserve with a great cycle track but they've since ventured much further than their local area.