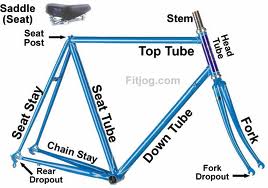 Before I worked in the bike industry (a mere one year ago), I was of the view that if you wanted to buy a road bike then your focus should be on the gearing of the bike, but the more I learn about road bikes, the more I realise that the frame is far more important than the gearing which plays a secondary role.
Just like many road bike buyers, when I bought my current carbon-framed bike I used the level of gearing on the bike as the key determinate. I first decided whether I wanted an aluminium or carbon frame and then I decided that I wanted Ultegra level gearing or better. Once that decision was made, I set about developing a short list of bikes that met this criteria. I also decided that I wanted to buy a women's specific bike. You can read more about this topic in a couple of previous blog posts I've written.
But back to the frame. Just to give you an example which concerns a friend of mine (a male friend). He cracked his carbon bike frame recently. Lets call the brand M. I believe the frame had a manufacturing fault and over time the weak point gave way and it literally snapped and tossed him off, just behind me on a weekend ride.