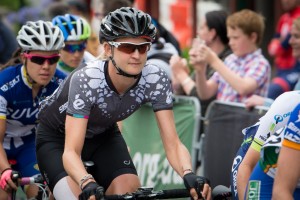 I caught up with Aussie pro cyclist Loren Rowney a couple of weeks ago via email. Loren is a member of the Velocio-SRAM women's team. Some of you may know it by its former name Specialized-lululemon. Over to Loren.
Q: How did you get started in cycling?
When I was 13, I went to watch my brother race a local club race on the Easter weekend. I spotted a girl from my neighborhood, whom I was competitive with, racing the men. And thought to myself, "hey, if she can race a bunch of men, so can I". I wanted to beat her. The funny thing is I am still best friends with that girl today.
Q: You're probably sick of being asking about your famous crash so I won't dwell on the details, but can you tell me how you recovered both physically and mentally from such a high profile incident? How hard was it to get back on the bike?
The first two weeks were really painful and frustrating because I didn't have any answers as to why or who even, caused this crash. I'm a hyperactive person, so being confined to a small apartment wasn't fun. It was the spring too, and I had big ambitions for all the races I was now going to miss. I'll admit, I got depressed and it was very challenging mentally to come back. I'm still struggling a bit now.