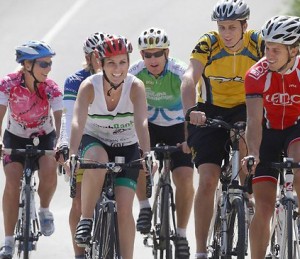 It is very rare to find a group of recreational riders who ride at the same pace all the time. They'll be riders who are having a good day, those who are having a bad day and just those (like me a lot of the time) who are just slower than many of their friends. For me, this is because many of them are men, and in general male riders are stronger than women.
But I don't let that spoil my enjoyment of riding with friends and my pals are always very kind to me, and wait for me, and encourage me to improve. Likewise, I sometimes ride with others who are slower than me and I'm always kind and patient too.
I found this great article by Sarah Bonner published on the women's cycling website Women's Cycling and the editor Laurel-Lea kindly agreed for me to republish it here. Over to Sarah…..