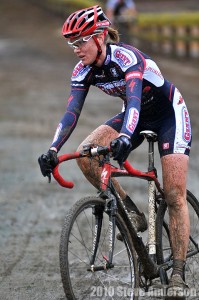 Cyclocross is a relatively new event on the Australian cycling calendar but it's actually been around in other countries for many years.
Some describe it as a combination of mountain biking, road cycling and criterium racing into one challenging event. Most races last for 30 minutes to an hour on a closed, twisty circuit of 2.5 to 3.5 km. The course surfaces consist of pavement, grass, dirt and sand peppered with obstacles, such as steps and barriers. Participants must conquer these by rapidly dismounting and carrying their bikes while running, then remounting on the fly. Aerobic endurance, bike handling skills and even tyre pressure are key factors in achieving victory. The messy conditions brought on by variable winter weather often make for a slippery mudfest, as documented in countless images like this one.
Special bicycles used for cross racing draw on characteristics of other cycling sports. Like road bikes, cross bikes are lightweight with drop handlebars and skinny tyres. But, as with mountain bikes, the tires are knobby for traction to grind up hills, the frames are stronger, and cantilever brakes are standard issue. (The UCI recently sanctioned disc brakes.) The bottom bracket, fork and seat stay clearance are more generous to contend with muck and debris on the course. Not everyone who participates in the sport has a dedicated cross bike, but those who get into the sport, will usually buy a dedicated bike.
The sport originated during the early 1900s as steeplechase — races between towns, in which off-road shortcuts across the countryside were permitted. This later evolved into an off-season training technique for road cyclists. It spread from France to the Netherlands and Belgium and other bike-racing nations in Europe, and has continued to gain popularity in the US since the 1990s.
In Australia it's starting to gain some interest and it even has a national season. The first round is actually in a couple weeks in Melbourne. The final event of the series is being run in Sydney Park which will showcase the athletes in an inner urban Sydney setting for the first time. The Cyclocross national championships comes in the middle of the series and will be held in Adelaide on 2 August.
The 2014 national Cyclocross Season
Round 1: 21 June, Cranwell Park, Melbourne
Round 2: 22 June, Darebin Park, Melbourne
Round 3: 12 July, Midvale Speed Dome, Perth
Round 4: 13 July, Garvey Park, Perth
Round 5: 3 August, Adelaide
Round 6: 23 August, JJ Melbourne Hills Memorial Reserve, NSW
Round 7: 24 August, Sydney Park, NSW
If you're interested in trying Cyclocross there are also other races held regularly around Australia. For example, the Hunter District Cycling Club hosts a Cyclocross series that began on the weekend. Here's some of the media coverage from the Hunter. In metropolitan Sydney, the Manly-Warringah Cycling Club is also currently running a series.
If you want to know what it takes to start getting into Cyclocross the read and excellent beginner's guide from nerverush.com.