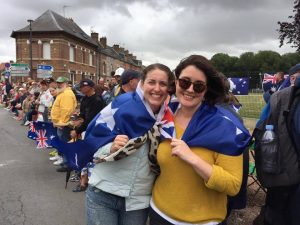 So what's it like to work for a pro cycling team? As part of my series on women who work in the world of cycling, this week's post is about Communications expert, Phoebe Haymes, who recently landed her dream job working with the pro cycling team BMC. I actually met Phoebe last year at the Tour de France. She was at the time working for a PR agency in France, and was working on a brief social media event focused on Aussie corner in Villers Brettoneux. We've kept in touch and I recently sent her a few questions……
Q: What attracted you to the world of the men's professional peloton?
I grew up in Adelaide and was eight years old when the Santos Tour Down Under began in 1999 so it's fair to say I grew up with this event. My dad and sister did triathlons so their interest also extended to cycling which meant every January we would follow the race. My interest in cycling grew from here and I would stay up late to watch the Tour de France every year. I began to follow other races as I got older and always wanted to work for a cycling team. I studied journalism and international relations at university in Adelaide and I decided to volunteer for the Santos Tour Down Under in 2013. I was fortunate enough to go on and intern with them in my final year of studying, and then at the end of the year was offered a position with the South Australian Tourism Commission which meant I could continue to work on the race. In the two years of working at the Santos Tour Down Under I was fortunate enough to make some key contacts with the WorldTour teams which is how I landed my current job with BMC Racing Team (with a lot of networking in between).
Q: BMC has Australian riders Richie Porte and Rohan Dennis. Was that a factor for you in choosing to work for BMC?
It's great to have the Australian connection with Richie and Rohan, and we also have our Sporting Manager Allan Peiper who is also Australian so we are slowly growing the network. Of course with Cadel Evans' success with BMC Racing Team there's always been a strong Australian connection. I wouldn't say that their presence was a factor in me wanting to work for BMC Racing Team. I always said I would be happy to start with a Continental or Pro-Continental team, so to start off at BMC Racing Team is a dream come true. The fact that I have some fellow Aussies in the team is icing on the cake.
Q: The men's professional bike riding scene is obviously male-dominated/focused. Does this make you feel a bit isolated?
It's definitely a man's world so I don't think it's an industry for all women. You certainly have to be comfortable to be the only female in certain situations. At BMC Racing Team we have a number of females across different roles so although I may be the only female at some races, at others there are a couple of us. I've never felt isolated and I'm lucky to have a great group of riders and staff that I get along well with (which is essentially when you're on the road together for up to a month). I think that the number of women with WorldTour teams is growing and in the Press Officer circle there's a few of us which is nice.
Q: What's a typical week look like for you?
It completely depends what races are on as to what my week looks like. I'm the primary person handling all of the team's social media channels and as a native English speak I write the majority of press releases and race reports. I have a colleague Amy who we brought on this year to handle the communications for BMC Development Team and she helps me out when we have a lot of races on, or if I'm on site and lose internet connection, so she's been a great help.
Basically regardless of whether I am at a race or not I publish all of the social media coverage of a race (stage profile, start times, mid-race updates on Twitter, photos etc) and then afterwards interview the riders and Sports Directors and then write our race report. Then in the evening I trawl through the photos taken by our professional photographers and upload these and publish on social media. If i'm not on race then I'm often handling various interview requests and coordinating with the riders. If I am present at the race then I generally have more interviews (pre and post race) to manage, and I take behind the scenes photos for our social media channels. We also look after our partner/sponsors' request on site.
Then there are a number of things that come up that you don't think of, and of course throughout the year there are a number of announcements like rider signings to make, or injury and illness updates on our riders. It's a job that requires you to be available 24/7 so it's not unheard of to receive a call late at night because a rider crashed and we need to communicate on his condition. When I'm not on race the benefit of my job is that I can do it from anywhere, I just need my laptop and wifi.
Q: Do you attend a lot of the races and have to travel a lot?
I've had a very busy on-race program this year so by the end of the season will have had close to 200 days on the road with BMC Racing Team. I love traveling (you couldn't do this job if you didn't) and have learned to live out of a suitcase with only a day or two at home in between races. I'm heading tomorrow to the Vuelta a Espana which will be my third Grand Tour of the year, and although it's no holiday we're lucky enough to go to some amazing places and see some incredible scenery, so I still have to pinch myself.
Q: Where are you based? Have you had a chance to meet any locals?
I'm based in Paris out of choice. We're lucky enough to have a fair bit of flexibility with where we live, although somewhere like Paris is ideal for a lot of the races as I can catch the train to all of the Classics and there are of course a number of flights I can take to various destinations. I was already based in Paris when I was offered the job and had my network of friends here which is why I decided to remain. Many of the non-Europeans who work in cycling live in Girona in Spain or Lucca in Italy but I like the fact that Paris is removed from the cycling world. I miss the beaches of Australia though and this will be a motivating factor if I decide to relocate elsewhere.
Q: Have the BMC guys got you riding a road bike?
They haven't! The reality is that when we are on-race no one has the time to ride a bike, but BMC Switzerland have given us a couple of BMC alpenchallenge city bikes for the press officer when needed so this is great to ride, especially as the team bus parking can sometimes be a long way away from the sign on podium and start line. Most people find it funny that someone like me, who  loves cycling, has never been on a road bike! Who know, it may happen one day.