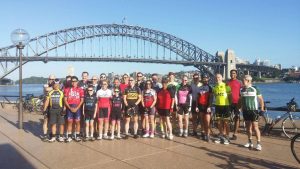 The Christmas season for me is a pretty busy and crazy time at work, so I don't have a lot of time to write a long blog post but I do encourage you to celebrate Christmas on your bike. So I'll keep in short and reflect a little on this wonderful time of year.
Iconfess to being a bit of a Christmas tragic. I'm not ridiculous about it (like the people I saw on a TV Christmas special the other night) but I do love my Christmas tree covered in beautiful decorations, and a few other strategically placed Christmas mementos. But what I really love about Christmas is my cycling group's yearly ride to the Sydney Opera House.
I'm lucky enough to live in a city with a temperate climate and a warm Christmas Day. And while I'll be doing my fair share of sitting on my derrière sipping sparking shiraz and eating prawns, I'll balance it out with some riding.
Our annual ride is a really easy pace to encourage as many riders as possible to join us. It's not too far and not too hilly but our ultimate destination is the beautiful Sydney Opera House where we always pose for a photo. This is last year's shot.
So I encourage all women who cycle to get out on their bikes over Christmas. It's a great way to gain some 'me' time during this 'silly season'.
And just in case you think I'm only interested in riding my bike, I also love catching up with all my extended family over Christmas as well.
Merry Christmas to all my regular readers.
It would be great to hear from other women riders about how you celebrate Christmas on your bike.