Product Review: Sher Active Cycling Kit from Italy
Sara from Sher Active in Italy contacted me a couple of months ago to ask if I'd be interested in testing her new women's cycling kit. And of course, I said yes, not just because I got a freebie but because I like to help new women's cycling kit brands promote their product.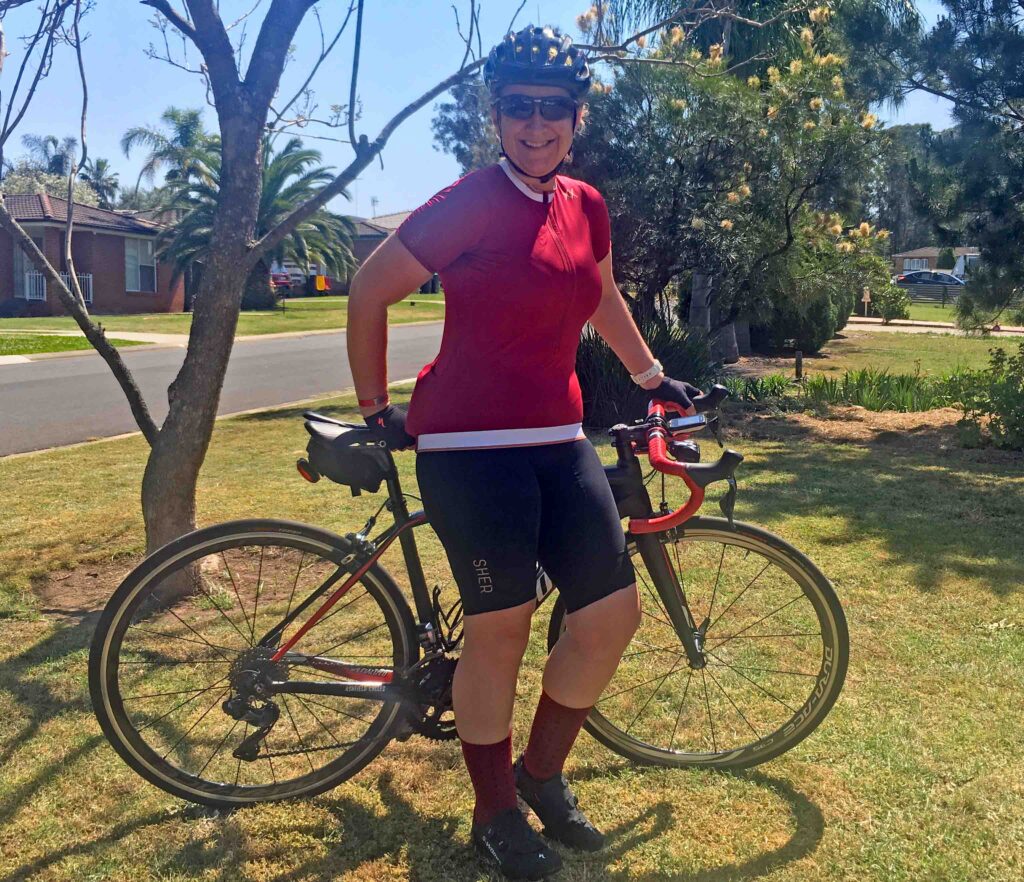 The parcel from Sher Active arrived within a week all the way from Italy via courier. Before it arrived I received an email with shipping details and a few tips on washing and wearing them for the first time. The first thing I noticed when I opened the parcel was the lovely tissue paper and sticker used to ship the kit – it reminded me of a nice clothing boutique's approach, a nice touch.
The two products I reviewed are the Frizzante bib knicks/shorts and the Pura red jersey. Both are size medium. To give you an idea I usually wear Women's size 10 (Australian) clothing.
As was recommended I washed the shorts in the supplied laundry bag before I wore them. Before I even put them on I could tell they were nice quality. They are very lightweight and the fabric has a quality feel about it. It has a matt finish which I really like – very flattering.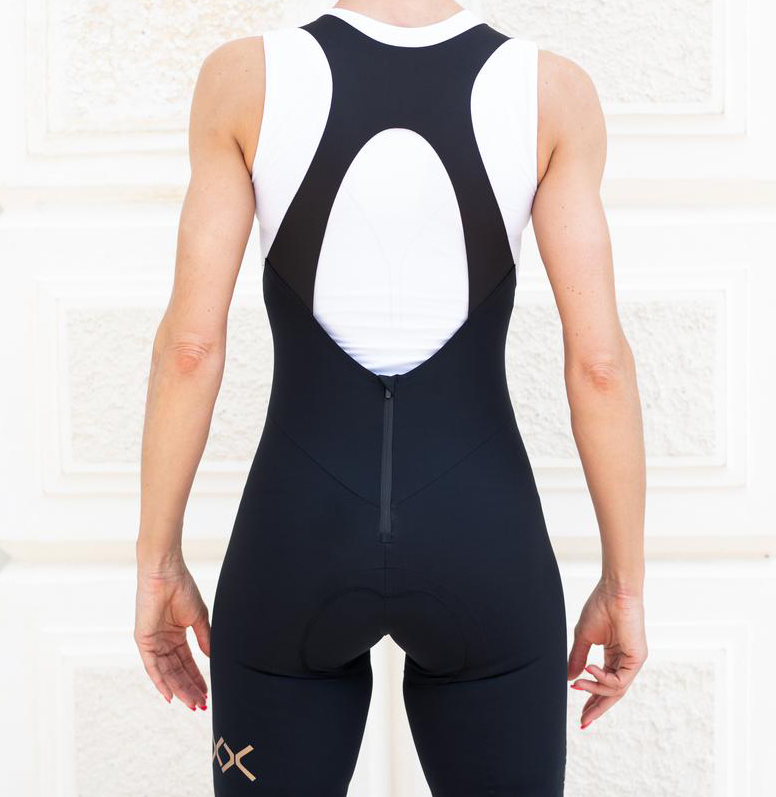 I must admit that I struggled a little to put them on for the first time. I did follow the instructions I was given to turn the cuffs up so the gel grip didn't stick to my legs. However, when I got them on they fit like a glove. The leg grip was a little tight but that could be accounted for by the four kilos I put on during COVID lockdown. I'm currently working on shedding those kilos so I look forward to wearing them again in more comfort.
I'm a huge fan of bib shorts so was happy to be wearing them once I had them on. The straps feel like a second skin and go up the sides rather than over my breasts which is comfortable and practical.
I found going to the toilet very easily by using the "the auto-lock zipper to facilitate easy bio-brakes without the removal of your upper layers". I also headed the advice to make sure the zipper was locked before I headed out.
The final feature of the bib shorts that impressed me is the chamois. Sher Active developed the chamois to eliminates 99.9 per cent of harmful bacteria and candida fungus, permanently and with fully natural ingredients. I suffered from a really bad infection on a multi-day cycling tour a few years ago and these shorts would have saved me a lot of suffering and embarrassment.
Like the shorts, the jersey has a lovely quality feel about it. It also fits me really well which you'll see in the photo of me wearing it.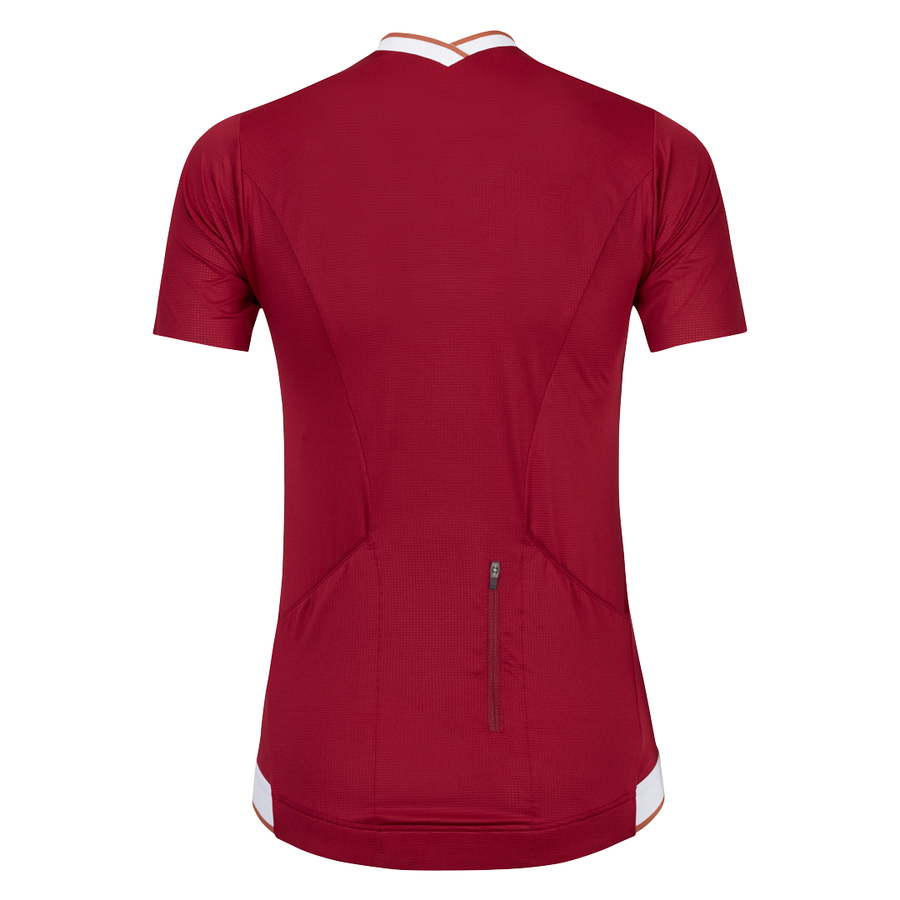 The bottom cuff fits well and feels soft, as do the sleeves.
A nice quality touch is the rear collar where it comes into a point (see image). It just makes it a little bit more classy and comfortable.
My only minor criticism is that it has a ¾ length zip rather than full length. Nearly all my jerseys have a full-length zip making them easier to remove particularly when I need to go to the toilet mid-ride, although the Sher bib knicks do include a handy toilet feature so that's not really an issue.
I also like three open pockets on the rear, and the Sher jersey has two open pockets and a zip pocket in the centre. I'm a bit set in my ways and always put the same things in each pocket – my middle pocket also includes a tissue, a multi-tool, and sometimes food depending on how long I'll be out. I do concede that the centre pocket on the Sher jersey is still quite large and easy to open even while riding so it's not a game-changer for me.
I'd definitely recommend the Sher Active kit, the service is impeccable, and I'd encourage anyone to support this start-up brand, run by the lovely Sara and Francesca. They've also launched a range of women's active/workout wear that you should check out too.
Product review: High quality Velocio cycling kit
I actually find product reviews to be a bit tricky to write. I'm not keen on exaggerating and I don't want to be too critical, but I want to give my readers an honest opinion. So here goes. I'm pleased to say that the Velocio kit that I've been testing is great and so it's easy to write positive things about it, free of hyperbole.
I tested the Velocio Women's Recon Micromodal Jersey, Women's Signature Bib Knicker, Ultralight Gloves, and Tricolour Signature Socks.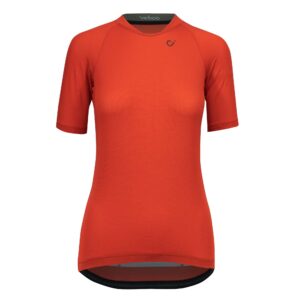 Firstly the jersey. I'm a great fan of the colour red so I was very happy when I opened the parcel to find a lovely red colour that they call Lava. The fabric is soft and comfortable with small dots and feels and looks like a comfy t-shirt rather than a typical lycra jersey.
Rather unusually the Recon Jersey has no zip and pulls on over your head with ease. Velocio tells me that it's designed for gravel adventures or coffee shop rides. I must admit that I was a little skeptical at first because I'm quite a fan of full zips for ease of dressing but I was soon convinced because it looks and feels good to wear.
Plus, while full-zip jerseys are great for when you want to remove it to go to the loo, when you team it with Velocio knicks you don't have to worry about such issues. More about that later.
The Recon Micromodal Jersey is deliberately designed to be a casual look so it's not quite as fitted which matches the concept. It still fits nicely and is shaped to fit the curves of a woman. A pet hate of mine is cycling apparel makers who claim to make women's jerseys that turn out to be small men's kit. Velocio is definitely not in that camp. In fact, they started out as a women's cycling kit brand, and then added men's gear later.
The other features like are the reflective logo and tabs, the gripper around the bottom to help it stay in place, and the SPF 30+ rating.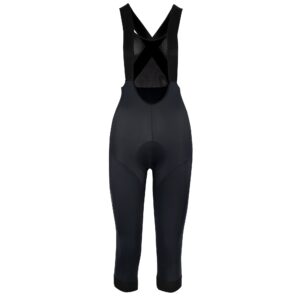 I was keen to test these knicks because they are ¾ length which I really like to wear in cooler weather. I've owned a few pairs of ¾ knicks over the years but I've always found them harder to buy than short knicks or full-length winter tights.
Even though they are ¾ length they are still quite lightweight making them comfortable but not too hot to wear on Autumn or Spring mornings. They even have mesh fabric at the back of your knees which is similar to some of my other activewear which is quite trendy.
One of the key selling features that Velocio uses is the FLYfree technology which they describe as pee-brake friendly. Now I'm too much of a lady to describe all of this in great detail but they are designed to pull down easily so you don't have to remove your top. I will admit that I struggled a little with this feature at first but when I contacted the Velocio product manager, she sent me a video to demonstrate them. Then I was set. Here's the demo on their website which will help explain it better.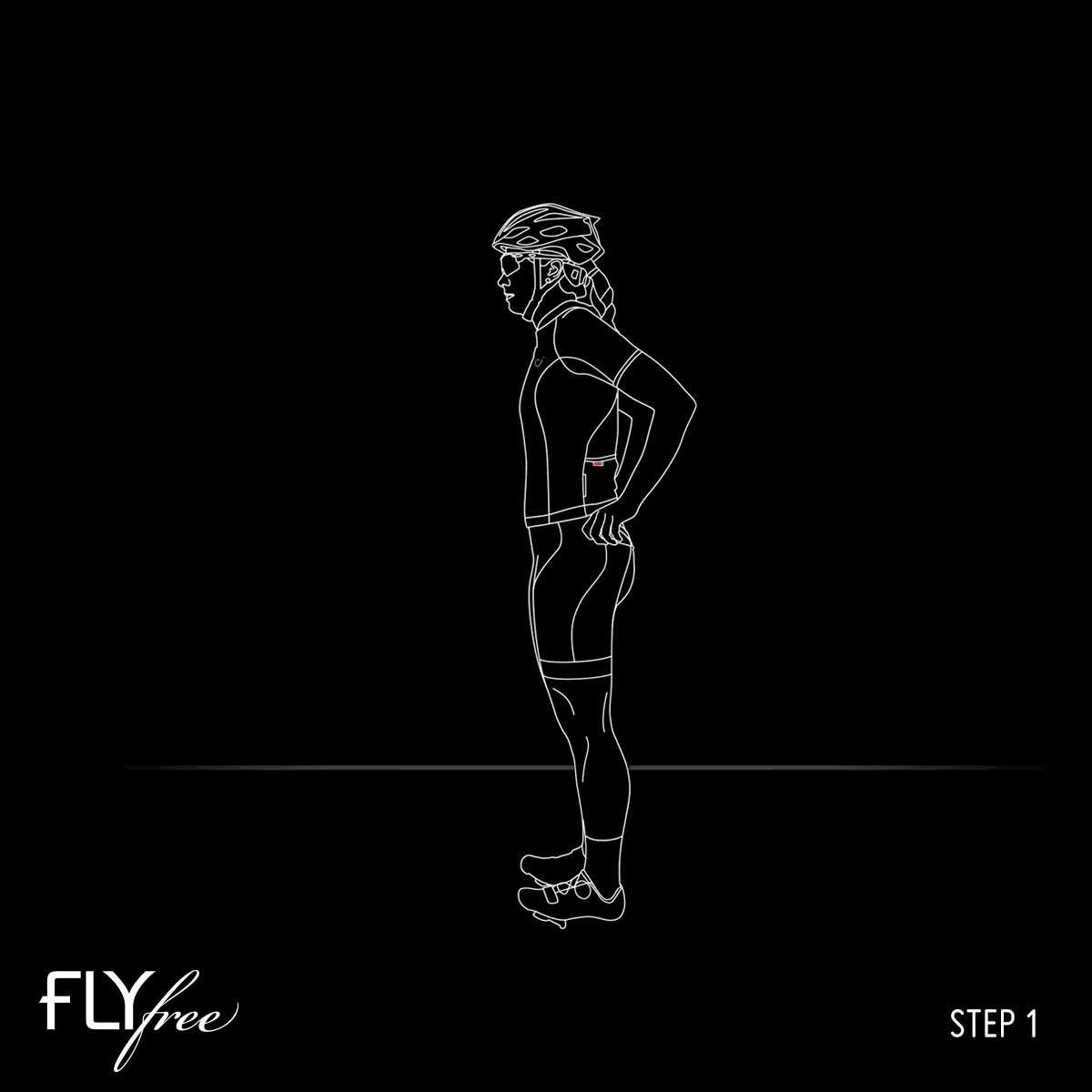 They fit me very well. I usually wear a medium in most kit and so I went with medium in the Velocio knicks and while I was a bit concerned they were too small when I first put them on I realised after washing and wearing them they were just right. They fit like a glove.
The chamois is also great offering the right amount of padding even for quite long rides. To look at the padding seems quite thick but when you put them on you don't have the feeling of a big pad, and I've definitely worn plenty of knicks that did feel like that.
At the front of the upper part, there's more mesh that feels soft and comfortable to wear. Velocio assures me that the elastic straps are designed to stretch fully when you use the FLYfree feature.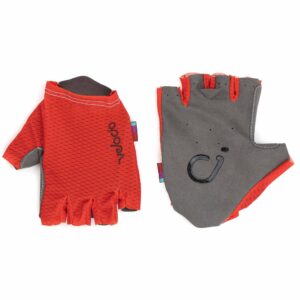 These gloves are summer weight and have no padding. I used to wear very padded gloves but over time I've moved to less padding so these gloves suited me well. And they come in my favourite colour – red, as well as three other colours – yellow, black and mint.
I was pleased to hear that the mesh fabric is SPF50 and they look like that trendy waffle fabric found in many cycling jerseys. They match perfectly with a jersey that I wear regularly.
The gloves I tested are XS size and despite being a snug fit they are easy to remove.
Tricolor Signature Sock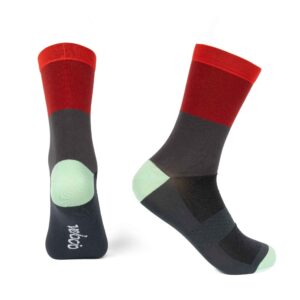 Last but not least are the Velocio Tricolor Signature Socks which are also great. Very lightweight but still substantial. They apparently include a touch of lycra which makes then fit nicely.
The socks include mesh on the top of the foot section to make them even more lightweight for warm weather. And of course, they match the rest of the gear I reviewed with red stripes.
Overall, you'll have gathered by now that I'm a fan of Velocio gear. I've reviewed it before and I still wear those items years later. They wash well and last. So you might pay more upfront but you'll be wearing it for years.
Product review: Apres Velo pajamas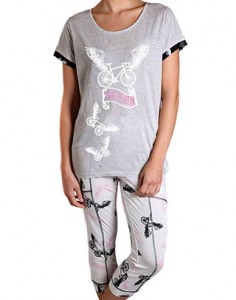 This might seem like a strange review for a cycling blog because I usually write about products that you use while you're cycling, but I couldn't resist when Apres Velo contacted me and asked if I'd like to review their pajamas.
Apres Velo (which in French means 'after cycle') is a brand you may know for their distinctive cycling T-shirts but they also make a range of men's and women's sleepwear, caps, bags, and even beach towels.
The pajamas I tested are appropriately called 'Living the Dream'.
The first thing I noticed was the nice bag they come in, along with the pajamas and an eye mask.
They fitted nicely and were really comfortable because the fabric is soft and there's no harsh seams or tight areas. I slept comfortably in them, and when I got up in the morning I didn't want to take them off because they were so easy to wear.
The pants were quite fitted without being tight. They have an elastic waist and two pockets (not sure that I'd ever use those) and are emblazoned with bicycles with wings. I must admit I don't really like the pale pink colour but that's just a personal aversion to the colour.
The top is loose fitting but not too loose and is a good match to the pants with the same bike with wings and 'Living the Dream' across the front.
You can buy a pair of these lovely pajamas for yourself from Apres Velo for AU$54.95 or choose from their range.
Product review: Bike Nicks cycling underwear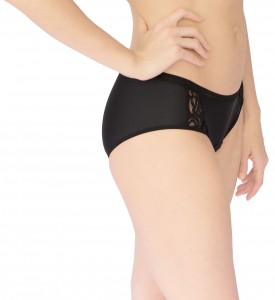 I really love to hear about enterprising women who have created their own product as result of searching around and not finding what they want, so I was really thrilled to hear from Lili Millar from the UK about her 'Bike Nicks' product.
"I created Bike nicks out of desperation! Everyday undies were useless when it came to managing the pain caused by sitting on a narrow bike saddle and cycling on bad road surfaces. I often resorted to ill-fitting, ugly, over padded cycle shorts and wasn't happy with this solution," said Lili Millar.
Lili contacted me and asked if I'd like to review her product so I happily agreed.
Lili's 'Bike Nicks' underwear are not at all like the bike knicks worn by female roadies like me. Those type of knicks have padding or chamois that covers quite a large area taking in your sit bones right through to your genital area. Lili's product is designed to be worn by female cyclists who ride for fun, leisure, commuting and cover just the genital area.
The 'Bike Nicks' I tested looked just like lacy black underwear with one major difference. They have padding to protect your genital area while riding a bike. The padding is not dissimilar to a medium-sized sanitary pad except it's black and obviously part of the underwear rather than removable. The 'Bike Nicks' were comfortable to wear and certainly made the bike saddle more comfortable. I wore them to ride a commuter bike in an upright riding position and rode for about 20 minutes, and I totally forgot that I was wearing them, which to me means they were doing their job. I also wore them just like regular underwear all day and they were quite comfortable.
Well done to Lili for creating a great product for female riders. You can buy 'Bike Nicks' in both brief and thong (G-string ) style here. They are available in both black and pink.
Product review: Velocio winter kit
My favourite cycling apparel brand Velocio contacted me recently and asked me if I'd like to review some of their current range. Being a northern hemisphere-based company I think they had in mind for me to review some of their summer range, but as I live in the southern hemisphere, and it's winter, I put in a request for some of their winter kit and I was very pleased when a parcel arrived with a Velocio Mid Jacket, Zero Bib Tight and Signature Wool Socks.
I need to emphasise that I'm not pai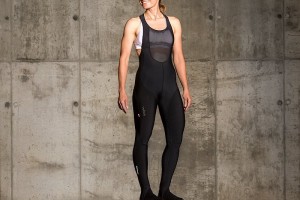 d to write reviews, however, particularly in the case of apparel I get to keep the garments. I'm particularly fond of Velocio because the brand was started by fellow Aussie Kristy Scrymgeour who also owns and manage the Velocio-SRAM women's pro team (formerly Specialized-lululemon). I'm also fond of the brand because I already have a pair of their signature knicks, short sleeve jersey, long sleeve jersey and a gilet, all of which are great garments. See below for my previous review.
In Sydney where I live we are lucky enough to have what most people consider mild winters. Our coldest mornings are usually no cooler than 4 degrees celcius and the days are usually above 15 degrees. So we are able to ride all year round, but in winter still need some warm gear and that's where Velocio's Zero Bib Tights are ideal.
The tights are a little hard to get into to, not unlike a wetsuit to put them on, but once you've got them in place they fit beautifully. They have windproof and water-resistant panels across the front but despite these, you still retain a full range of movement which is obviously important on a bike. The pre-shaped knee also helps with movement. The fleece backing on the rest of the fabric keeps you nice and warm. I also liked the stirrup design which fits snuggly around your foot and doesn't slide back when you put your shoes on. The top part of the tights also fits nicely and pulls up for a snug but not too tight fit.
They are available with or without chamois. I tested the chamois version which means I didn't wear anything under them. The non-chamois version are designed to be worn with other knicks underneath which would give you extra warmth. I found the tights alone to be lovely and warm. The price at the time of publication is AU$259 without chamois and AU$279 with chamois.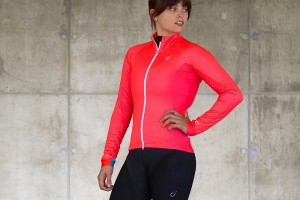 To compliment the tights I also tested the Mid Jacket which is a lovely bright red colour. It just happens to be one of my favourite colours and it's nice and visible which is a bonus. I'm not fond of fluoro yellow kit and this is a great alternative. As well as the bright colour it also has reflective logo and trim so when car lights shine on you, you're nice and visible.
Overall the medium jacket fits me really well. Not too tight, but the right shape for a women's body and it has extra long sleeves so it will meet up with your winter gloves and not leave any flesh exposed to the cold.
The jacket also has windproof panels in the front and sleeves which helps with those chilly winds you get, particularly when descending. All the other panels are designed to be breathable so I didn't get overheated.
There are three pockets on the back, plus a small water-resistant zipper pocket. It also has a silicone gripper below the pockets to keep in nicely in place which helps with warmth and comfort. The Mid Jacket is AU$305. I wrote this review after only one wear, but I expect to use this garment for years, so the not insignificant price tag will be well worth the investment.
Velocio also sent me a pair of Signature Wool Socks to test. They felt nice to wear and kept my feet warm despite being lightweight socks. I also wore bootie covers over my shoes but I always wear these in winter when the temperature gets below about 8 degrees celcius. The socks are AU$31.
You can see the whole Velocio range at velocio.cc
Product review: Skins Cycling Compression Jersey & Knicks
Naomi from Skins contacted me recently and asked if I'd be interested in reviewing some of the Skins range of cycling kit and I must admit I was a little hesitant. I had a bad experience with Skins cycling knicks about four years ago with a pair that were too thin (and rather revealing from behind), but as soon as I looked at this current range I knew it was an entirely different product. So I asked Naomi to send me a short sleeve jersey, short knicks and some socks to try and I was pleasantly surprised.
I could tell as soon as I took them out of the packaging that they are quality garments. They look good, are well finished and the fabrics feel really nice.
Because it's currently winter in my hometown of Sydney Australia I headed for the indoor trainer to give them a good test, rather than shivering my way around outdoors. It's not that I don't ride outdoors at this time of year I just wanted to wear the Skins garments without extras over the top.
Firstly the knicks which are officially called 'Cycle Women's Bib Shorts' and retail for AU$219.99 on the Skins website.
I must admit they felt like a bit of a tight fit when I first put them on but as I got them sorted I realised they were designed to feel fairly firm. On their website they use all sorts of technical explanations like 'Engineered Gradient Compression' and 'muscle stability and support'. To me that just adds up to comfort. I'll leave you to read the rest of the description on the website.
I particularly like the elastic and silicon gripper around the legs. It is like a wide elastic strip which is soft and comfortable, and doesn't give me the 'sausage-effect' that some other knicks unfortunately give. It holds the knicks in place nicely as well. The chamois is also comfortable and provides enough padding.
I also tried out the 'Cycle Women's Short Sleeve Jersey Tremola' which retails for AU$129.99. It is available in black/white or black/pink combinations. I have an aversion to pink so went with the black/white one (pictured) which is quite a striking garment.
It fitted me well except for around the arms which I found a little tight on the elastic gripper part. It does say on the website that is provides compression support on the arms, but I found it just a bit much. Maybe I need thinner arms but I suspect I'm relatively average size.
Overall it felt great both on and off the bike. The three pockets at the back fitted all my usual stuff like mobile phone, cleat covers and money holder and they are angled slightly rather than straight up and down so it's easier to get stuff in and out. There's also a centre panel that is reflective which I like.
The back on the jersey is lower at the bottom than the front which fits nicely on a curvier shaped woman like me. The elastic around the bottom sat nicely at the back and front while I was walking around but I found that on the bike the elastic at the front sort of curled up which was a little uncomfortable and unflattering. Overall though the jersey was comfortable and fitted well.
I also received a pair of the 'Performance Socks Quarter Length' which felt very nice to wear although the 'soft fall cushioning' and 'arch support' were a bit lost on me. They just felt like a snug fit.
Overall I'd certainly recommend Skins cycling garments. They are well made, comfortable and look great. They also have a great size calculator on their website.
Check SKINS out here.
Product review: Rudy Project Rydon glasses with Photochromatic lenses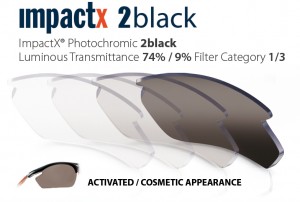 I was recently contacted by Rudy Project, a company that makes cycling sunglasses with a request to review a pair of the company's glasses. I jumped at the chance and here's what I thought.
The pair I reviewed are Ruby Project Rydon in matte black colour with photochromatic ImpactX2 lenses and I have only praise for these great glasses.
I have to confess that I've been wearing Rudy Project glasses for a number of years but these ones were an improvement over my existing pair.
I'm a huge advocate of wearing eyewear while riding. In my early days of riding I tried to go without a couple of times and invariably ended up with insects in my eyes, and tears streaming down my cheeks.
The Rudy Project Rydon's are really lightweight so you can barely tell you've got them on. They are also adjustable to fit each person snugly. The nose piece and arms are both adjustable so you can keep them in the correct place on your nose and bend the ends of the arms both in and down so they fit neatly.
Like a lot of cyclists I wear my glasses on the outside of my helmet straps and the Rydon's fit neatly over my helmet straps, and I tried them with two different helmets.
The best part about the glasses I tested are the photochromatic lenses which transition from light and dark depending on the amount of light. I quite often leave home for a ride in the early morning when it's completely dark but it gets light while I'm riding. The Rudy Project lenses change from clear to quite dark just like magic. In fact you are completely unaware that it's happening. You can only tell when you take them off and they are quite dark.
With my previous pair of Rudy Project glasses I couldn't wear them while driving my car home from a ride because they didn't work in the car, but they've now improved the lenses and they do work within the confines of a car.
The Impact X lenses come with a lifetime guarantee against breakage so I assume they are almost impossible to crack them. I didn't try this out of course.
I'd recommend Rudy Project Rydon's with photochromatic lenses for any forms of cycling. A great addition to any cyclist's necessities.
Product review: Apparel range from Velocio
When I first started riding about five and a half years ago I understood the need for lycra clothing, but I set out to buy the cheapest I could find, and at the time I thought this was okay. The result was that I look pretty ordinary and worse still my new lycra clothing didn't fit properly, plus it certainly didn't last the regular washing it required.
I soon learned that I needed to spend a bit more and be more discerning about the lycra clothing I chose to wear.
Fast forward to now and I'm very conscious about how I look in my riding kit, how it fits and how it washes.
So it's been a pleasure to try out some of the items from the new Velocio range of women's cycling kit. I purchased (albeit at a discount because I'm writing this review) the 'Paint' short sleeve jersey, signature bib knicks and light long sleeve jersey.
The range is the brainchild of Australian Kristy Scrymgeour who among other things is the owner/manager of women's pro cycling team Specialized-lululemon. Kristy told me about her new venture when we met up in January when she was home in Sydney for her summer break.
When I received the parcel in the post from the US a couple of weeks ago I opened it to find three garments that I thought looked a bit small for me. I was pleasantly surprised to find that they actually fit me really well. All three items are size medium which is the size I generally wear in most cycling kit. I used the dimensions published on the Velocio website and they were obviously right.
The whole range is manufactured in Italy and the fabrics are soft and light.
Short sleeve 'Paint' jersey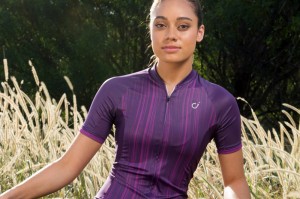 The colour of this jersey is described as 'orchid print'. It's a purple colour with stripes of lighter purple in a paint sort of effect which I assume is why it's got the name 'paint. The side panels are a lighter mesh type fabric and the sleeves are plain purple. I haven't seen many purple jerseys around so it's nice to wear something a bit different from the rest of the crowd.
On the rear are three regular pockets and a waterproof zipper pocket which is handy for valuables. A nice addition is the reflector strips on the centre pocket and the logos.
I wasn't sure when I first put it on about the neckline which is very fitted and a bit lower that most of my other jerseys. However, it feels very nice to wear and I think it looks pretty good too. I got a few compliments about the colour when I wore it.
The best part is the fit of the jersey. I have lots of cycling jerseys that don't fit me properly because they aren't made for a women's shape. The 'Paint' jersey fits me like a glove.
Signature Bib Short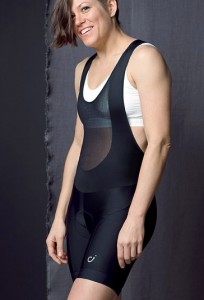 I'm a big fan of bib shorts so I've got plenty of them to compare with the new Velocio signature bib shorts. Against all of those the Velocios stack up well.
I was a bit dubious about the front section which is a mesh part that covers the stomach and chest area but it seems to work, and once you've put your jersey over the top you are completely unaware of it.
I'll let you read the features for yourself but I will sum it up by describing these shorts as almost feeling like you haven't got them on. They fit so nicely that you feel a bit 'naked'. Sounds a bit funny I know but I can't think of another way to describe it.
My only criticism is that they are just a little shorter in the leg than I would like and I'm fairly short so on a tall woman they would be even shorter.
That aside, I was very impressed with the feel of them and I've only washed them twice so can't tell you how they will wear long term.
Light Long Sleeve Jersey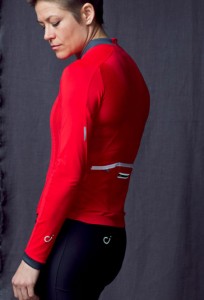 This jersey is a vibrant red colour which just happens to be my favourite hue.
I've never worn a long sleeve jersey before so I was a little dubious about its addition to my cycling wardrobe. I'm a big fan of arms warmers with short sleeve jerseys but was pleasantly surprised when I wore the long sleeve last week.
The morning I wore it the temperature range was around 12 to 14 degrees Celsius and the long sleeve jersey was just right from a warmth perspective. I did have a undershirt on as well, but I always wear one, so it provided a fair comparison to my usual kit.
Like the short sleeve jersey it has three regular pockets and one waterproof pocket on the rear, as well as the reflective pieces.
The fabric is light and very soft on the skin so felt really nice to wear and my riding companions complimented me on the new jersey.
Product review: Tineli women's jersey & knicks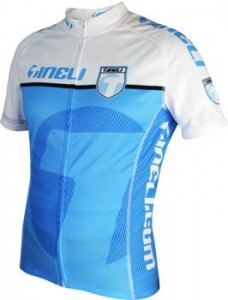 Last year at the Ausbike show in Melbourne I had a chat with a guy called Jono from Tineli custom clothing. I was keen to learn about what they had to offer in custom cycling apparel because for a while now I've been planning to produce my own jersey & knicks for Women Who Cycle.
Jono at Tineli kindly offered to send some samples of Tineli's range for me to write a review and to assess whether I would go ahead with custom clothing process. I'm pleased to say that I'm pretty impressed not only with the quality of the clothing but also with Jono and his team. So I'm in the process of finalising the design of my own knicks and jersey – more about that later.
So here's my thoughts on the Tineli women's pro bib knicks and the women's team jersey which Tineli produces and sell as a standard range in bike shops around Australia.
I'm a fan of bib knicks so I have a quite a few others to compare the Tineli ones with. Overall they seem great. They fit me well, firm but not too tight. All my other bib knicks are women's medium and the Tineli ones are a similar fit. The chamois is specifically designed for women and I found it pretty comfortable. It is fairly thick and has two extra padded areas that seem to line up with my sit bones (these are the two bones that protrude down from your pelvis and they should be the part of your body that rests comfortably on your saddle). At first I thought they were too thick but I've now got used to them and find them really comfortable.
The knicks have a soft waist band which again is specifically designed for women and makes them comfortable across the stomach area. I also found the parts that go over your shoulders soft and comfortable. Most of my bib knicks go around the outside of my bra but the Tineli ones sort of go over (a bit to the sides) which makes them comfortable. They are also quite comfortable over the shoulders and would also be comfortable for women who are longer in the torso than me.
The leg bands are also really comfortable. I have a few sets of knicks where the leg bands are too tight and get quite uncomfortable on a long ride. Tineli calls the leg band 'anti-sausage' which sounds a bit gross but it seems to work and despite not having any leg grippers stays nicely in place.
The lycra is 240 gsm which I like because I've owned quite a few pairs of knicks that have been see-through. They also have a sun protection factor of 50 plus.
The jersey I tested is Tineli women's team jersey and is available in a pink or blue colour scheme. I tested the blue because I have an aversion to pink. The fabric is 140 gsm which makes it quite light but not too flimsy. It has a sun protection factor of 15-25 which sounds ok. It has the standard three rear pockets that I'm told are double stitched.
Once again I tested a women's medium and it fitted well. I have plenty of women's jerseys that are very straight up and down but the Tineli jersey goes in at the waist and fits comfortably. The full zip is definitely a must in my view and it functioned well except for a small amount of buckling at the lower part of the zip. It's available in children's sizes in the pink only and in both colours from sizes XS to XXL.
See the Tineli website for more information.
Product review: Specialized S-Works women's road shoes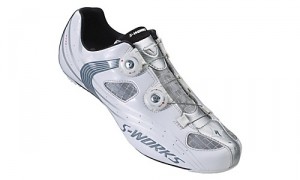 I've been riding with my S-Works road shoes since last October (a total of about six months) and thought I'd share my thoughts with you in a brief review.
My first bike shoes which I wore for three years were Shimano women's shoes with a carbon sole and velcro straps . They served me well for those three years but the S-Works were definitely a step up in comfort and also in price.
The S-Works shoes are secured with what Specialized calls 'Boa dials' which are plastic circular dials that tighten up with wire 'laces'. They give you a firm but not too firm hold on your foot and so far so good I haven't had them fail on me. I did actually jam the wire once but it was because I wasn't guiding it out when I was undoing them so now I've adjusted my loosening technique it's all good. I should note however that my partner has the men's equivalent shoes and he has had one of the dials replaced on this shoes after one year of wear.
The key things for me when choosing these shoes were the carbon sole because I'd ridden with a carbon sole and liked the stiffness of it; the fit and comfort; and of course the aesthetic appeal.
I do recommend that you buy shoes from a retailer so you can be fitted properly. You need a little more room around your toes than you may need in conventional shoes so that your toes don't get squashed in and become numb on long rides. My shoes are size 39 which is one size larger than most of my shoes. It means there's a little bit of room around my toes and I've not had a problem with numb toes with these shoes. In fact I've found the shoes very comfortable and have done quite a few long rides in them. They are also well vented so keep your feet cool in very warm weather. I wear shoe covers in colder weather which effectively blocks the vents.
And of course I also like them because they look good – predominantly white and silver, and they match my bike and other gear. They are also easy to keep clean. I usually clean them with baby wipes which is what I clean my bike with.
But we're all different so my strongest recommendation would be to try plenty on before you make a decision. It's well known that many would-be purchasers go to retailers and try bike shoes on and then purchase them cheaper online. Some retailers are getting around this by charging a 'fitting' fee which is refundable if you buy shoes from them.
Product review: Eddy Merckx EFX-3 women's specific road bike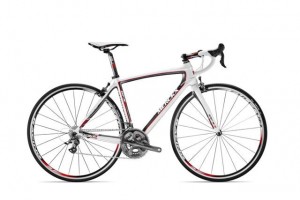 I was thrilled when David Cook of Clarence Street Cyclery asked me if I'd like to ride the new Eddy Merckx women's specific road bike and write a review for my blog. It's my very first bike review so don't be expecting any technical talk or voice of experience.
For benchmarking purposes my own current road bike is a 2011 Specialized Amira Expert which has a full carbon frame and the gearing is full Ultegra. I really love my bike but I also jumped at the opportunity to ride a different bike for a week and certainly didn't regret this decision.
The Eddy Merckx name is synonymous with cycling and racing and they claim that this bike is designed with racing in mind. So they have incorporated 'Female Race Geometry' where the angle of the seat tube is kept as close to proper racing angle as possible, the top tube is made shorter and the front head tube is made larger.
The bike which I've just returned to Clarence Street Cyclery was an Eddy Merckx EFX-3 women's specific road bike. It has a full carbon frame and the gearing is Ultegra. If you want all the technical specifications then go to the Eddy Merckx website . It retails for $3,999 which seems to be fairly comparable price in the marketplace.
From what I know this bike is part of a range of new bikes from the Eddy Merckx company in Belgium. While the brand has been around for many years and is obviously closely tied to the great Eddy Merckx this range is a bit of a relaunch particularly here in Australia. In fact they had an official launch at the Tour Down Under in 2012 and had their bikes on display at the Tour Village.
My overall impression of the EFX-3 is that it handled well and was very smooth to ride. I rode about 180 km over the week around suburban streets and roads. I also tested it up some hills and descents and having nothing but praise for it.
As you would expect the Ultegra gearing was smooth and easy to change. The brakes felt good and predictable and didn't let me down even riding in some light rain. The carbon frame obviously absorbs a lot of the shocks and made for a nice smooth experience. If you move from an alloy frame bike to carbon you'll certainly notice the difference.
The gearing is 50/34 on the front and 12/25 on the rear. My own bike is similar but has a 11/28 on the rear and I must say I did notice the granny gear on the EFX-3 was a little harder but I still made it up all those hills.
The saddle is a Prologo Nago Evo Dea Ti and it was comfortable and accommodated my sit bones correctly. It wasn't overly spongy but I think that the shape of the saddle is the key thing rather than spongyness. It also looks pretty 'fast' and suited the rest of the bike in both colouring and style.
The EFX-3 is predominantly white with black and red highlights which I personally find an appealing colour scheme. It's certainly not lairy but also not boring. The white handle bar tape also completes the look and contrary to rumours you may have heard is really not that hard to keep clean as long as you clean it often.
The whole Merckx range seem to be quite similar in appearance and I think they've gone for a 'middle-of-the-road' look to appeal to the varying tastes of riders. It works for me. I think that women more so than men will match their outfits to the their bike (I actually had a conversation with another female rider this morning and she confessed to the same thing) so a safe colour scheme makes this much easier. I also have a complete aversion to pink cycling gear including bikes so was pleased that none of the three Eddy Merckx women specific bikes had any sign of pink.
I was also impressed with the internal cables that run inside the downtube which makes it look better but also hides them away so they are less susceptible to damage. The Fulcrum 5 wheels handled well and again are similar to my current bike.
Overall I enjoyed the experience. Had this bike been available when I bought my bike a year ago it would certainly have made it to my shortlist. At the time of writing Clarence Street Cyclery which has a dedicated women's store had plenty of stock of the three sizes available – 40, 43 (the size I rode) and 46 cm.
Product review: Netti comes of age
A small side benefit of starting this blog (and letting a few people in the cycling industry know about it) is that I've so far received a few products to review so I want to disclose that up front. You might think that compels me to say great things about every product but luckily for me the Netti kit I was sent is really nice so it's easy to say nice things without it being seen as biased.
The Netti brand has been around for many years and most cyclists associate it with high viz clothing for commuters, and in the past that's probably fairly accurate but the brand has been reborn with a new range that I believe is divided into three levels – commuter, elite and performance. The kit I received fits in the elite range. They even have a new logo.
The knicks are bib knicks which if you read my previous blog you'll know I'm a fan of, so that ticks the first box. They are comfortable and fit me well. I particularly like the bands that go around the leg because they are firm enough to stay in place but soft enough to not dig into my legs. Some of my other knicks that have elastic around the legs really dig in and can become quite uncomfortable after many hours of wearing. The part that goes up over the shoulders is also soft and comfortable. The chamois is good – very similar to most of my knicks.
The jersey is comfortable and a soft fabric. It has a full zip which is handy when you're wearing it with bib knicks because it's much easier to take your jersey off when you want to go to the toilet. It has the usual three pockets in the back as well as a small zip pocket in the middle which was great to store my car key when I was on a long ride yesterday where I drove to the start. The only thing that I don't like is that jersey is a little loose around my waistline but I suppose not all women are the same dimensions so it is made that way to accommodate a few different shapes.
The best part is that it looks good. A cyclist buddy of mine rode up behind me the other day and asked me where I bought it because she wanted the whole kit – it matches her bike perfectly!
I have seen this kit for sale at the Clarence Street Women's store and just in case you want to hunt one down the details are:
Jersey – 'Netti Diva Danseuse Jersey White'
Knick – 'Diva Team Bibnix Black/Aqua'
Product review: Fizik Vesta Women's Saddle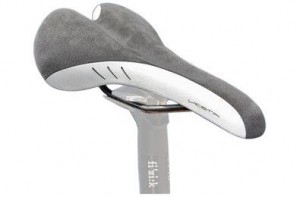 In the last couple of weeks I've been testing the Fizik Vesta Women's Saddle which is going pretty well. It looks and feels good so far and is definitely one I would consider if you're looking for a women-specific saddle for your road bike. I'm not an expert on saddles but from what I know women's saddles are made differently to men's to accommodate our anatomy. They often have more padding than men's and are usually wider at the back because women's sit bones are wider.
My Specialized bike has a Specialized Ruby Expert women's saddle which is also good but a little on the hard side at times, particularly on those long rides. My old bike had a more cushioned women's saddle – Selle Italia Gel Flow and when I hopped on it a couple of weeks ago I certainly noticed how spongy it felt. The Fizik Vesta is about half way between the two – not too hard, not too soft – just right.
It also looks good. The test seat I've been given is the grey and white version. It is also available in black. The grey part which goes up the middle is a suede-like fabric that Fizik calls Microtex and the outer part is white leather-like covering. When I first saw it I thought the grey part might mark easily but I've already ridden with it in the rain and it still looks brand new so it obviously wears ok.
The only criticism I have is that I couldn't fit my Topeak bike bag bracket underneath the seat because the rails didn't line up with the bracket so I had to go with another bike bag but it wasn't a big issue. Lucky we've got so much riding gear that we had a spare one that clips under instead.
I was impressed to read on the packaging that it's handmade in Italy and weighs only 269 grams.
The Fizik saddles are widely available through bike retailers. I noticed when I was in Clarence Street Cyclery women's store a couple of weeks ago that they stock it and also have a test saddle that you can borrow to try it out – definitely a good idea. The RRP is $189 and I'd certainly recommend you put it on your short-list if you're looking to upgrade your saddle.