Come on female roadies – female cyclists should wear bib shorts
A topic that often comes up amongst female road cyclists is whether or not female cyclists should wear bib shorts, also known as knicks. I've been wearing them for years and wouldn't consider anything else because they are just so comfortable.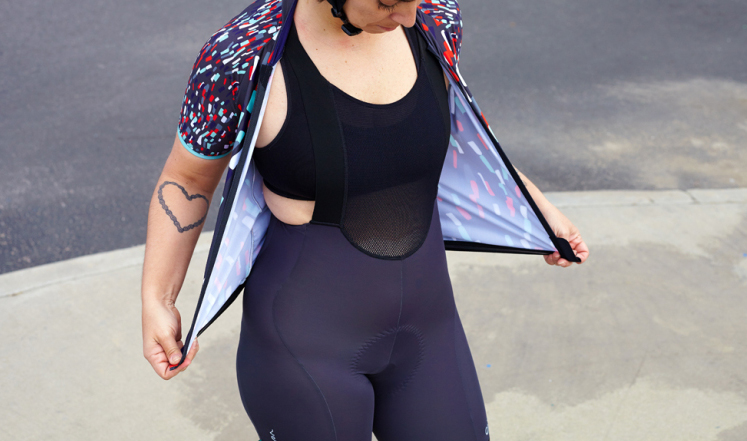 When I started riding nearly 12 years ago I did what most people do and headed for a bike shop and bought the cheapest plain black padded shorts I could find. These were relatively comfortable, affordable and served me well. As you would expect they weren't bib shorts. At the time I probably wasn't even aware that bib shorts existed and if I was, I thought they were for 'experienced' riders.
My conversion occurred when I had the opportunity to order some bib shorts that were part of my ride uniform for my second JDRF ride in January 2010. My partner suggested I give them a try, and because they didn't cost me anything I thought, why not?
To my surprise, I found them more comfortable than regular shorts and was an instant convert. This is mainly because they don't cut you around the middle and hold everything firm. Thanks in part to my devotion to cycling, I don't have a large girth but even for me, they are more comfortable than regular ones. They also eliminate that annoying gap you sometimes get on your lower back between your shorts and jersey when the jersey starts to ride up and your skin is exposed. Plus, they guard against any muffin top!
The only detraction is that they are a bit harder to get off when you want to go to the toilet. You have to take your top off first but this isn't a huge hassle. Just make sure you put your bra, heart rate strap and thermal top (essential if it's a bit chilly) underneath the bib part of the shorts so it's only your outer layer top you need to remove. And a full zip jersey is essential to make this easier.
I've also heard some women say they find the upper part of the shorts that go over your shoulders to be uncomfortable and they don't sit well, particularly with large breasts. I find with most of my bib shorts (and I own a lot of them) they tend to on the outside, rather than over my chest so they are comfortable and out of the way. The great thing is that there are plenty of brands out there so you can pick and choose one that will suit you.
More and more cycle clothing manufacturers are making women's bib shorts so it shouldn't be too hard to track them down. There are the usual online sites but some retailers will also have them available if you shop around.
There are also quite a few brands that incorporate a zip or clip or design that allows you to go to the toilet without having to remove your top layer. I'm not going to try and explain how these work. Last year I tested and wrote a review about the Velocio bib shorts that you can read here. I would certainly recommend them.
I'm also about to test a new brand of bib shorts made by an Italian company called Sher Active. One of the key selling points the Sher brand bib shorts is the pad that eliminates harmful bacteria to guard against urinary infections and saddle sores. Look out for that review in a month or so.
Just about all of my friends are devotees of bib shorts as well so they can't all be wrong.
No matter whether you wear bib shorts or non-bibs two things are non-negotiable if you want to be part of the crowd. One is that you should wear padded shorts, rather than shorts or gym pants, and secondly, you shouldn't wear any underwear underneath them. They are designed to be worn without underwear and in fact, wearing anything underneath can cause chafing.
Do you think female cyclists should wear bib shorts? Share your thoughts via comments or the Women Who Cycle Facebook page.