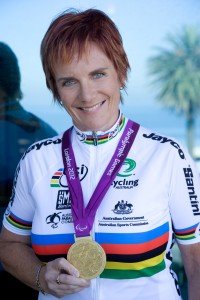 I was contacted a couple of weeks ago by the PR agency promoting a Melbourne-based mass particpation cycling event called the MS Melbourne Cycle being held on Sunday, 19 April. One of the Ambassadors of the event is an Australian Para-cyclist who was diagnosed with MS 17 years ago, so I caught up with Carol Cooke via email.
Q1: Why did you decide on cycling as your sport after your MS diagnosis?
I didn't really decide on cycling as a sport after my diagnosis. I had always been a swimmer and continued to swim after my diagnosis. In 2005 I was asked by the Australian Paralympic Committee to come to a talent search day. When I did I found that I was 24 years older than the oldest person there but I went through the testing and a couple of weeks later I was asked to take up the sport of rowing. Rowing was a new inclusion in the Beijing Paralympic Games. I did take it up and made the national crew in 2008, we attempted to qualify for Beijing but unfortunately missed by 0.8 of a second. I continued rowing and competed at the 2009 World Championships where our crew came 6th, so I figured that I would be in London for rowing. Unfortunately in 2010 Rowing Australia decided they weren't interested in our crew. In early 2011 one of my rowing team mates called me, she had taken up Para Cycling and told me that there was a Trike category in Para Cycling. I had been riding a trike just as cross training back and forth to rowing. So my first competition was in April of 2011 at the National Para Cycling Championships and I haven't looked back.
Q2: Is your bike modified to deal with the symptoms of MS like balance issues? Please tell me a bit about your equipment.
Yes I ride a Trike, it looks like a normal bike at the front end but where your back wheel would normally go I have an axle with two wheels. MS has affected my balance so riding two wheels is impossible.
Q3: It would be very easy to give in to a disease like MS, how do you rise above it?
I guess it is just about what kind of life you want. You can either let MS dictate what your life will be like or you can decide that you will live your life in conjunction with MS. I refuse to let it dictate what I can and can't do. Yes there are things I can't do anymore but there are also things that I have been able to experience because of my MS. I would never change my diagnosis, yes I would love a cure, but as I said I have been able to do so many things that never would have happened.
I think it is so important to have a positive attitude in life and realize that MS is not a death sentence, it me it is more of an inconvenience and makes me do things just a little bit differently. That doesn't mean that every day is perfect, I do have my down days but I try not to let them happen more than one day at a time. I realize that there are a lot of people out there a lot worse off than me.
Q4: How important is an event like MS Melbourne Cycle to you?
These types of events are so important to me. An event like the MS Melbourne Cycle does two things ; 1. it raises so much money for services for people living with MS and 2. just as importantly it creates awareness of MS. MS is such an invisible disease for so many people that it puts a face to it and hopefully people will not only raise much needed money but also learn about the symptoms and struggles of people living with MS.
Q5: Describe how you felt when you won the gold medal at the Paralympic Games?
How do you describe every emotion happening at the same time! I had dreamed of representing my country at the Olympics as a small child in Canada and was hoping to be there in 1980 in Moscow. But Canada boycotted the games along with the US and I thought that dream was gone. So to be standing there singing the Australian National Anthem, my adopted country, and to have my family in the audience was an incredible feeling. My medal was even presented by a member of the International Paralympic Committee who was Canadian, so I felt like the circle was complete!
Q6: Do you have any other upcoming races?
I am preparing right now for two World Cups one in Germany, the other in South Africa and the World Championships in Switzerland throughout July and August. This is an important year for us as it is the qualifying year for the Rio Paralympics. There are only so many spots allotted per team at the Paralympics, so we have an 18 month qualifying period where we attempt to gain as many points for the country as we can. Then next year each country will be told how many spots male and female they can have. In London we only had 6 male and 6 female covering both road and track. So it is a really tough team to make. It is important for me to stay at the top of my game so I can get one of the spots for Rio.
Q7: How many hours a week do you train?
On a hard training week I can put in 16 hours of training down to 8-9 on an easy week. I try to mix up my training a bit with riding, swimming and gym work.
Q8: Tell us about your book that I believe you will be releasing on 23 April?
I am very excited to say that I have finished writing my book. I have been writing it while overseas and on planes so it has been a long time coming and is now in the editors hands. I am hoping for a 23rd of April release date as it will be the 17th anniversary of my diagnosis. I have called it "Cycle of Life – A gold Medal Paralympians Secrets to Success". It isn't an autobiography but talks about how to overcome adversity, jump hurdles and create a winning mindset all through the ways I have done it and stories from my life. It will cost $29.95 upon release but I do have a pre-release sale on right now and it can be purchased $19.95 plus $5.00 postage and handling at http://tinyurl.com/nkry7cs