Working together will help raise the profile of women's cycling
The low profile of women's cycling has come to fore again in recent days following some rather controversial comments by Chloe Hosking at the start of the Bay Crits racing inVictoria. Calling the head of the UCI 'a dick' is probably not the right way to go but I do agree with her sentiment. To her credit she has come out and said her choice of words was not great but she stands by the comments.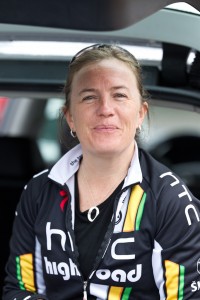 I'm at outsider to this situation and have only recently started following the women's professional cycling scene so I'm in a unique position to put my hat in the ring on this subject.
I'm a public relations consultant by day and so am not completely ignorant about how you build a profile.
Firstly, it's a slow process. But I believe that there are many women working behind the scenes who are having an impact. I really like the comments by Australian road cycling coach Donna Rae-Szalinski who says in a report on SBS Cycling Central that women need to work with the system rather than against it. She definitely supports the slow process idea and sees it happening step-by-step.
And it's not just the women. Commentator Philip Gomes has been talking about women's cycling in recent times and encouraging both men and women to take more interest in women's cycling via Twitter @Philip_Gomes. 
Blogger and Cervelo founder Gerard Vroomen has also been outspoken on the subject of the profile of women's cycling and the inequities.
My favourite comment about the profile of women's cycling comes from recently retired pro Kate Bates. Kate is a strong advocate of her sport and she suggests that we acknowledge that women's cycling is very different from men's and we should embrace those differences rather than trying to emulate them. @KatherineLBates.
There are also women making waves in the pro ranks. The recently formed Specialized Lululemon team set up by the former marketing and communication director of HTC Highroad Kristy Scrymgeour is a great example of what can be achieved. When HTC was disbanded at the end of 2011 she kept the women's team together and secured two high profile sponsors in Specialized and Lululemon to keep the group together.
Rochelle Gilmore's success with her Bike Exchange Dream team is another illustration of what can be done with some persistence and lots of door knocking.
Even at a grass roots level there's lots of women talking about all aspects of women's cycling like Rowena Scott with her newly launched blog SheRides Cycling and of course my own blog womenwhocycle.com.
So girls, the message is clear. Keep the good work up and encourage as many men to join the supporter ranks. Together we can achieve great things.