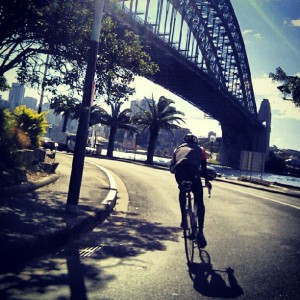 There's been a lot of media space devoted to the issue of bike riders using the roads of late, so I thought I'd put my 'two bobs worth' forward.
You'll note that I haven't called this blog post 'Cars v Bikes' because I really don't think that's what it's about. From my observation many drivers (and by no means all drivers) think that they are entitled to use the roads exclusively and that cyclists should vacate 'their' roads or at least pull over and let them pass.
As a road cyclist I think I'm pretty considerate. I do most of my riding early in the morning to avoid heavy traffic, I choose not to ride on major roads except where they can't be avoided, I obey the road rules, I use front and rear lights early in the morning and late in the afternoon, and I travel at a speed where I rarely hold up a driver for more than a few seconds.
And yet, nearly every time I ride my bike I encounter an aggressive driver who either takes my right of way at a roundabout, comes up very fast behind me and then overtakes in a dangerous manner, and occasionally I've been beeped at, or yelled at by impatient people.
Those drivers are no more 'entitled' to be on the roads than I am. I've heard many drivers argue that they pay for registration which pays for the roads so they should have right of way. This is a flawed argument – the roads are paid for by government taxes, not car registration fees. Plus, I'm also a driver and I've been paying registration and license fees for many, many years, not to mention taxes.
A couple of years ago, my partner and I went on holidays to The Netherlands on a bike riding tour. It was a great seven day tour where we rode bikes on roads and bike paths for around 50 km per day. What an amazing contrast that was to riding in Australia. There are so many bike riders that drivers are easily outnumbered. There were plenty of excellent bike paths, but where there were no bike paths and we cycled on the road, the drivers were so considerate and went around us, or waited if necessary. I wasn't beeped at once, and there wasn't one time in those seven days where I thought a car came too close for comfort.
In Australia it's a completely different story. We have some fantastic groups like the Amy Gillet Foundation working on this complex issue with their 'metre matters' campaign. They've even managed to have the 'metre matters' made into law in Queensland. It all has to help.
I read a great column in the Sydney Morning Herald last week by Elizabeth Farrelly. In short, Elizabeth says that what we need is a cultural shift on Australian roads. The issue is not that the majority of drivers feel they are being held up by cyclists, they feel they are entitled to the roads and cyclists just shouldn't be there. And it really doesn't help when the NSW Minister for Roads makes ridiculous statements about how 'registration' of cyclists will help curb accidents.
And speaking of holding up drivers, I had a look at the average speed of my own car before writing this blog post. In my car's computer I'm able to look at the average speed and it's a whopping 28.7 km. I drive mostly in peak hour traffic and I'm definitely not being held up by cyclists. The main thing that is holding me up is other drivers who are also driving to work (most of us just one person per car) and parents dropping their children at school. Incidentally when I was at school we all walked, rode bikes or caught public transport to school. Maybe Duncan Gay should get on that bandwagon instead.
So my fervent wish is that a few enraged drivers read this blog and try and see someone else's point of view. It's bloody scary when a person driving a one tonne car comes whizzing up behind me on my 8 kg bike in an attempt to intimidate. And yes, I am scared but it won't stop me, and thousands of other riders from using the roads every day.
And I'm certainly not alone in being nervous on the roads. Cycling Australia released its survey results yesterday from a research project they conducted last year. One of the key findings was that feeling unsafe on the road is preventing Australian women from riding more regularly. I plan to write about the rest of the survey results in next week's blog post so stay tuned…..