Calling all road cycling women – You need some 2019 cycling New Year's resolutions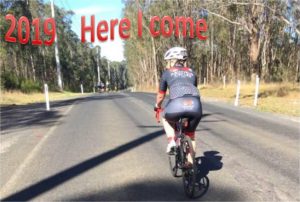 Happy New Year everyone – 2019 is going to be a great year, and to help you kick it off here's my favourite ideas for your 2019 cycling New Year's resolutions:
Ride new places
I'm very guilty of riding the same routes all the time – you know, the ones within my comfort zone. We all need to try new places on a regular basis. It keeps your mind active and you get to see new scenery and locations as a bonus. It even works when you are away on holidays, and is a great way to see a new place up close.
Make a new friend
I have been so fortunate in my ten years of road riding to constantly meet new people. Many of those new people have become great friends. So I challenge every female road rider to make at least one new friend in 2019 through cycling. You could even have a go at converting some of your existing non-cycling friends to riding. I guarantee they'll thank you for it.
Join a club
There's no better way to find an instant cycling community than joining a cycling club. There are lots of clubs that cater for different sorts of riders – some focus on racing, but many of them are also great at organising social rides and other events. In the past two years my cycling club LACC has grown its numbers, and the majority of those new members are women. So if you're looking for a cycling club with a strong female contingent, and you live near Sydney's inner west, then look us up.
Enter a race
This might be completely out of your comfort zone but it's a really great way to develop as a cyclist. Most cycling clubs run races on a regular basis. My club actually participates in a great program called Come 'n' Try racing for women which is organised by the Women's Commission (I'm a member) of Cycling NSW. Our next events will be run in Autumn 2019 so keep any eye out for the events which will be promoted via the Cycling NSW – Women's Facebook page.
Complete your longest ride ever
My longest ride ever so far is the iconic Around the Bay which is a loop of Port Phillip Bay in Melbourne. I rode 210 km in a day which was long and hard, but very satisfying. It will be difficult to top that one for me but it's a great goal to set myself.
Learn about your bike
You really should learn about basis maintenance for your bike and not rely on others. Lots of bike shops and other organisations run regular introductory courses for women so make sure you keep an eye on opportunities in your area and sign up in 2019. At a minimum all riders should be able to change a flat tyre, and clean and lubricate their own precious stead.
Set 12 goals in 12 months
A great way to break down your cycling goals for 2019 is to set a smaller goal for each month. If your ultimate goal is to complete a long ride later in the year, set individual goals for each month leading up to it. In fact your goal for January could be to sign-up for an event later in the year, and make sure you choose something that's a challenge rather than completely within your current ability and comfort zone.
Share your 2019 cycling New Year's resolutions via comments for the Women Who Cycle Facebook page.