2020 Women's Tour Down Under – a ride not to be missed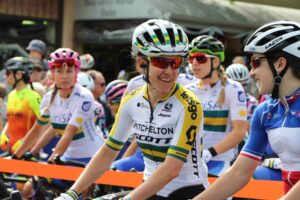 I'm just home from Adelaide after following the 2020 Women's Tour Down Under (TDU) professional women's road race, and I've pleased to say it just gets better and better. I also attended the 2019 race and I'm happy to report that this year's was even better. In fact, last year and every other year I've attended the Men's TDU, but this year I went just to watch the women and came home before the men's race even began.
So if you live in Australia or even overseas I encourage you to attend the 2021 Women's TDU, but if that is a bit far for you to travel, there are also some other great women's professional stage races like the Women's Tour of California or the Women's Tour of Britain. Plus, there are some great ones in Europe like the Italian Giro Rosa and Tour of Norway.
If I haven't convinced you based on my enthusiasm alone, then here are a few reasons why you should be attending a women's bike race soon.
It's dynamic and exciting
Women's road races are generally shorter in length than men's races, as gazetted by the cycling governing body the UCI. This means that the women race pretty much from the start to the finish. If you've ever watched a long men's race, you'll notice that quite often they cruise along for a 100 km or so before they even get into the racing. The women don't have that luxury so they tend to race from the start.
Like many sports, women approach bike racing a little differently to men so it's fun to watch the diverse tactics. I'm actually a big fan of men's bike racing as well. In fact, I've got the men's TDU on my device in front of me as I write this post.
You get to really feel part of it
While the crowd numbers continue to grow at the Women's Tour Down Under, there are still fewer fans at the side of the road for most women's professional bike races. This means that you get to feel like you're right up close to the riders. Before they start the racing you can wander amongst the riders and wish them luck.
At this year's Women's TDU I met several parents and partners of the riders, just by chatting with people at the start and finish. It's great hearing from their loved ones, and it makes you feel like you're part of the broader cycling community.
It will inspire you
Watching a bunch of fit and fabulous women is really inspiring. It made me feel like I wanted to jump on my bike and join them. In fact, I actually rode to Stage 3 of this year's race and enjoyed riding on some of the roads they rode upon. And while I'll never ride like a professional rider, it made me feel close to the amazing athletes.
It's free
Like all road cycling races, you catch watch from the side of the road for free. For the first two stages of the race, I drove my rental car to the event and watched them at the start, during the race and at the finish, all without spending a cent on entry fees. Contrast that with the tennis match I attended in Adelaide that cost me $55 for my ticket, and that was a cheap seat!! And while I really enjoyed watching the wonderful Ash Barty it did cost me money for a ticket and parking fees.
Did you attend the Women's Tour Down Under 2020? What other women's races have you attended? Share your experiences via comments or the Women Who Cycle Facebook page.