I love sharing the stories of amazing female endurance cyclists like Alaina Beacall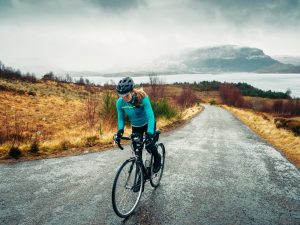 If you're a regular reader of this blog, you'll know that I love sharing stories from amazing female endurance cyclists like Alaina Beacall from the UK. Alaina contacted me last year to ask me to help spread the word. She's a 28 year old doctor from Merseyside. She started cycling in 2016 when a friend suggested she try the ride from Lands End to John O'Groats. She loved the combination of challenging herself physically whilst riding through wild and beautiful places. We've since traded a few emails and here's some more of her story:
Q: What got you started in endurance cycling?
I had been a cycle commuter for a couple of years on my hybrid, then in 2016 I was given the idea to try 'Lands End to John O'Groats', (by someone who then sadly pulled out!). I planned it on my own, joined a club to train, and completed it in 14 days that October. 'LEJOG' opened my eyes to the liberating thrill of being immersed in beautiful landscapes (Scotland!) all day, whilst combined with the physical and mental challenge of distance riding.
This distance and adventure cycling addiction caused me to immediately plan something bigger: five months later I set off to Nordkapp in the Norwegian Arctic, the most northern point of Europe, to cycle solo to the Croatian coast. I completed my target of an average 100 miles (160 km) every day, until I covered 5,137 miles (8,267 km). I also managed to raise over £5,500 (AU$9,720) for aid for Syria.
With this sort of 'extreme' version of touring, I realised that my mentality may be quite well suited to endurance racing, and with the encouragement of my crazy best friend, I have now entered the Trans Am Bike Race 2018.
Q: What type of bike do you ride, and equipment do you carry?
I did my Arctic-to-the-Med ride on a steel road bike (Genesis Equilibrium 20), and carried a rear rack with panniers and a dry bag (I had far too much weight to be honest!). But I was camping and cooking along the way, and was to experience a range of temperatures, from snow to the 'Lucifer' heatwave later on.
For Trans Am I am getting a beautiful bespoke titanium bike, from Vaaru Cycles, based in Bognor Regis. I've chosen titanium for its lightweight and durable qualities, and I am getting a dynamo built within the front wheel for a permanent electricity supply. Equipment-wise, I need to go super lightweight and more aerodynamic this time! I will be using bikepacking gear, such as a large saddle bag, frame bag and handlebar bag. I won't take cooking equipment, and I hope I can be hardcore enough, like the established endurance riders, to just use a bivvy bag for sleeping in!
Q: Tell us about some of the amazing journeys you've undertaken?
I guess I've covered that in the above answers: in quite a short space of time, I have completed training rides along the West coast of Scotland, across England, and in Majorca. Obviously my last trip was the big one, which took me down the Norwegian west coast, into Sweden, Denmark, Germany, Austria, Slovakia, Hungary and finally Croatia. The biggest challenge but also the most spectacular part was Norway. In itself, it took an insane 2,000 miles (3,218 km) to cover the country, and so it was almost half of the whole trip!
Despite the massive amount of climbing (average daily ascent between 1,500-2,500 m), and some terrible weather, I could not fail to be motivated every single day by the sheer beauty around every corner. Norway is so vast and feels untouched, especially in the northern third, meaning that every day was filled with understated waterfalls, mountain peaks and fjords. The other aspect that really warmed my heart was the people: every tourer van and motorbike would pass me with a smile, wave or a thumbs up. There was such a sense of community and willingness to help me, from everyone I encountered. As it was both the beginning of my immense challenge, and so incredible an experience, as you can imagine – I actually cried when I crossed the border!
Q: How have you funded these incredible journeys?
I have been fortunate enough to have two years of flexible working, where I can work temporary jobs quite intensely, then take time off. So I have used all of my savings for the last trip, and since returning, have worked many hours to save up for the next one. Adapt Outdoors in Liverpool were very kind as to support me last time with purchasing my outdoor gear, so that also really helped. Hopefully I will get some help this time too! Quite importantly, it's not as expensive as you may think, as it's quite a 'rough living' lifestyle of camping and eating on the road, which helps with the finances.
Q: Have you ever been in danger or felt threatened when out on the open roads?
Yes. Thankfully not on my big trip, except for the odd car coming too close for comfort. But whilst on a holiday in Sorrento with my mum, I rented a bike to do some training rides, and followed a recommended route by the bike shop.
This took me up a poorly surfaced mountain track through a forest. I was being followed by two men in a Land Rover, who actually tried to bait me with a puppy: they would place it in ditches alongside the road then hide, trying to get me off my bike.
I realised how incredibly vulnerable I was. They didn't succeed and stopped following me, but that was pretty sketchy. It made me question the risks I subject myself to in doing these trips, but that if I didn't do what I wanted to do, to avoid the risks, would that be the life I would want to live? It has made me more alert to avoiding situations like that, as much as is possible.
Q: Is the Trans Am bike race the biggest challenge you've ever taken on?
100% yes! I guess I have stepped up the riding big style since 2016. But that is why I love riding. It has given me a way to supersede my expectations, and it has shown me and hopefully others that your pre-defined limits are meaningless. 100 miles (160 km) a day alone across Europe was possible, so now I want to give 170 miles (273 km) a day across the States my best shot.
Q: There's an endurance race in Australia called the Indian Pacific Wheel Race. Could that be your next challenge?
We will see how I get on in Trans Am, but if it goes well. Why not?
Share your stories about other amazing female endurance cyclists. Use the comments or the Women Who Cycle Facebook page, and while you're there check out Alaina's Facebook page.