Amy Gillett Foundation making roads safer for cyclists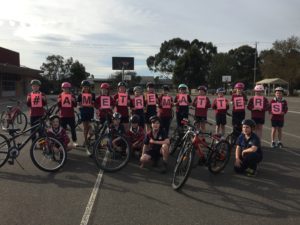 I've been admiring the great work of the Amy Gillett Foundation for many years, and felt it was about time I wrote about the terrific activities they undertake to make the roads safer for all cyclists. I was lucky enough to meet CEO Phoebe Dunn at a cycling event a couple of months ago and we recently corresponded.
Q: I know the AGF was founded in memory of Australian cyclist Amy Gillett. How has it evolved since Amy's tragic death 13 years ago?
Our singular focus on cycling safety remains unchanged. Over the years we have worked hard to reach an increasingly wider audience to effect behavioural change on our roads, going beyond simple awareness to education, research and legislative change.
Q: How important is your advocacy work versus your event organising?
It's probably not as widely known, but the most important thing we do is actually research, which underpins our policy agenda on behavioural, legislative and technological change. As we don't get any ongoing government funding, our events aim to raise funds that support our research and wider campaigns including public awareness, education, and stakeholder engagement, as well as providing an opportunity for us to speak directly to people who ride bikes.
Q: With road safety do you sometimes feel you are fighting a losing battle? 
Not at all. The introduction of minimum overtaking distance ("A Metre Matters") legislation in most jurisdictions across Australia has been a huge victory for cycling safety. As well, we have made inroads into compulsory cycle safety training and testing for new learner drivers, which will result in generational change on our roads. We are also working hard with policy makers and technology providers to develop systems that protect vulnerable road users. All these things give us great hope for improved safety on our roads.
Q: How important are the Metre Matters legislation changes? Why have you still not succeeded in getting it in place in your home state of Victoria?
As much as we would all like a dedicated, separated bike lane on every road, that's never going to happen. A Metre Matters delivers a virtual dedicated lane for cyclists on every road. We know from studies and anecdotal evidence that this legislation has had a big impact on driver behaviour and this will only increase the longer it is in place. While we are disappointed that this legislation is not seen as a priority by the Victorian Andrews Government, we believe it is only a matter of time before Victorian cyclists are able to benefit from the same rules that are making their cycling friends and families safer in other states. There are many within the Victorian Labor Party who have expressed strong support, and the Greens, the Liberal Party and the Reason Party all supported the changes before parliament.
Q: How is your organisation funded? Is it a constant battle?
We don't get any recurring government funding, so, yes, it's a constant battle. We are different to many other charities in that we don't have the same appeal of fighting against poverty, or a terrible disease, or the extinction of an endangered species. We rely on corporate partnerships and sponsorships, some revenue from events, and private donations. The scope of our work is only limited by the funding we achieve. There is always something more we can do and never enough money to do it!
Q: Is Amy's family still involved?
Amy's parents, Mary and Denis Safe, maintain very close ties and Mary continues to support our education program and visit schools and deliver a program teaching kids about road safety – "Remembering Amy for a Reason". Simon Gillett (Amy's husband) is the founding patron of the Foundation and currently manages Amy's Gran Fondo and the Share the Road Tour.
Share your experiences of the Amy Gillett Foundation via comments or the Women Who Cycle Facebook page.