Checking in with Tokyo Gold medallist Anna Kiesenhofer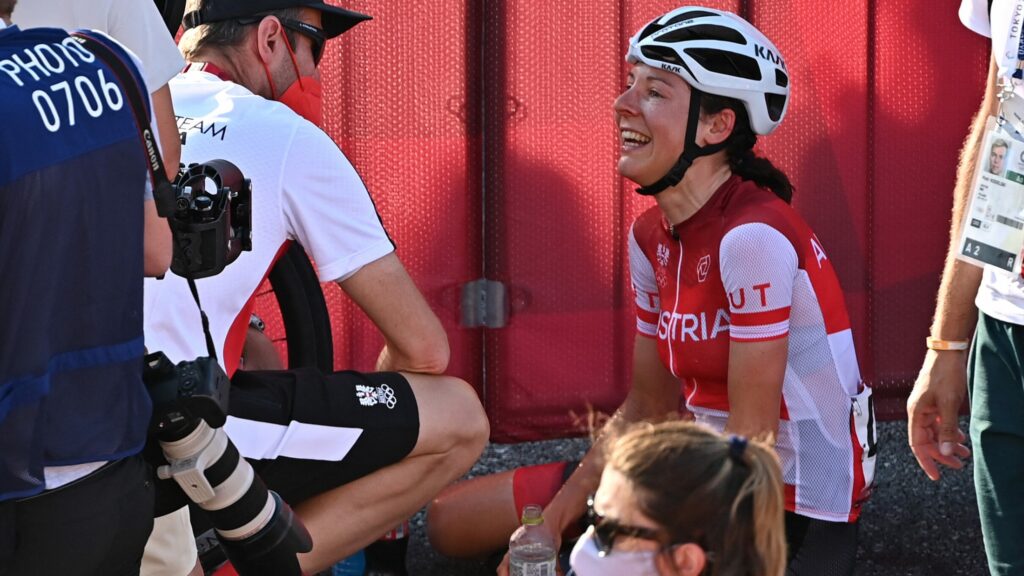 Last year, as I sat on my couch in lockdown watching the Tokyo Olympics Women's Road Race, I couldn't help but cheer on a rider who I'd never heard of before, Austrian rider Anna Kiesenhofer. The Dutch powerhouse riders were tipped to win the race, although no one seemed to know if Annemiek Van Vleuten, Marianne Vos, Anna Van Der Breggen, or Demi Vollering was the protected rider. In fact, that might have been their downfall.
Much was made at the end of the race when Anna Kiesenhofer crossed the line first, about the Dutch riders miscalculating and being unaware that she was ahead of them. The post-race interviews revealed that Annamiek and many others didn't realise the Austrian rider was in front. Sadly, for Kiesenhofer her victory was overshadowed by the failure of the Dutch team, rather than the remarkable win.
At the time I was curious about Anna Kiesenhofer and decided to finally act on that interest and contact her. To my delight, she answered my email within a few hours. I asked her what she's been doing since that fateful day and she said "Since Tokyo the main change was that I basically turned full-time pro and don't have any major commitment at university right now. In that sense, obviously cycling is more important for me than ever."
Rather than ask her all the same questions that she's answered many times I've taken some information and quotes from other articles.
During the race which took place on 25 July 2021, she made it into the early break, worked with her colleagues to build up a sizable lead, and then was the only rider to stay away.
"It came as a result of a lot of work," she said. "So to me, it immediately felt as if I deserved it."
Kiesenhofer said that her "amateur" status worked to her advantage in more ways than one. It rendered her something of an unknown, and unlikely to be seen as much of a threat.
"I used my role as an underdog," she said. "And I knew that people probably wouldn't chase me because I wasn't very well known… I had victories at the UCI level in the past, but those weren't important races. So I was hoping people had forgotten that I was any good."
Although many of the post-race comments focused on Kiesenhofer's academic background in maths, she roundly rejected the notion that she was able to calculate the numbers necessary to stay away.
"I know myself very well so I know what kind of power I can do, but to be honest, it's not about the numbers but feeling my body… I didn't plan in advance what power I would put out at every single moment."
After Tokyo, Kiesenhofer left her job as a postdoctoral fellow and has since committed herself to cycling full-time. Despite entertaining offers from professional teams, her experience of the professional peloton the first time around has left her reluctant to rejoin their ranks.
As Kiesenhofer looks towards Paris 2024, she'll be restricted to UCI races where she can ride in national colours, as she's not part of a team. She'll ride the European and World Championships for Austria, as well as the same amateur Gran Fondos that she raced in the lead into Tokyo.
I'm a huge fan of many pro cyclists who are part of the team system but there's something very compelling about Kiesenhofer's unorthodox approach and authenticity. She's unrestricted in her social posts that otherwise would be governed by her team's policies.
In a recent Insta post she said "Smooth sailing…or is it? You think elite athletes are always motivated to ride, looking forward to training, thrilled and confident about the hard session ahead? It's not my case at any rate! I almost always struggle at the beginning of a ride, feeling sluggish, worried about my power, etc. I've learned to accept it. It's normal for me. I need about 40min to get going. The trick is – well there is no trick – but the solution for me is to not wait for motivation, but just get going and trust that things will fall into place after those first 40min. They almost always do, I know it from experience. Don't wait for motivation! Action precedes motivation."
And this about training "I don't tend to write much about my training – one of the reasons is that most of the time it's actually not very spectacular and people always expect spectacular stuff on instagram 😉." She goes on to detail her training schedule which you can read here.
My final question to Anna was about how we encourage more women to ride bikes. Her response "I think the start should be to do it for fun and/or as a means of transportation. To encourage this, I think it's important to lower the "starting threshold" – make it easy, show it's not complicated to set up the equipment, it needn't be super expensive, etc. I think some people just get discouraged because it seems like a complicated sport equipment-wise (which it is in some sense, but giving a "recipe" about how to start might make it easier.) That's I guess the main difference between cycling and running. The latter only required a pair of shoes."
I look forward to following Anna's progress. Share your impressions of Anna Kiesenhofer and her Gold medal success via comments or the Women Who Cycle Facebook page.