Catching up with the Aussie women of Wiggle High5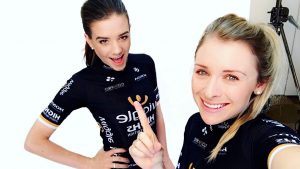 A couple of weeks ago I published an interview with Wiggle High5 owner/manager Rochelle Gilmore and thought I'd follow it up with an interview with the other Aussie women of Wiggle High5, riders Amy Cure and Nettie (Annette Edmondson). Enjoy….
Q: How have you found the racing in Australia over the summer months?
Amy – It has been really fun. I've enjoyed myself a lot. I think taking a break from the road last season has really helped me, and I think It's what I needed. It really confirmed how much I missed it, and I'm really looking forward to getting straight back into the road racing in May after the Track World Champs in Hong Kong.
Nettie – Racing in Australia over the Summer months was actually better than I had expected. I had a huge break after the Olympics so my form certainly wasn't great, however I feel like my results hid that. I raced a few track events, and think my experience helped me get the results I needed. I raced the Tour Down Under after minimal road kilometres, however my power was still there and, with the help of my WiggleHigh5 team I managed a 2nd and 5th place against some of the best sprinters in the pro-peloton. This has given me a lot of confidence going into my first complete road season this year.
Q: How long have you been with the Wiggle High5 team? Why did you choose Wiggle High5?
Amy – This is my first year in Wiggle High5. I think Wiggle High5 is a really good team for me to be in to develop my skills as a road rider, as well as learning lots of important things about road racing from the more experienced riders in the team. I think I can get the best out of myself in a team like Wiggle High5.
Nettie -This is my third year with WiggleHigh5. I chose to move to them in 2015 because of the change it would provide. I was with OricaAIS in 2013/14 which was great, especially as they nursed me through my first couple of years in the professional peloton. Being a track rider, I was completely absorbed by the AIS, so WiggleHigh5 was a chance for me to experience something new, to develop as a rider and become slightly more independent. It was a chance to meet new riders and experience a different way of racing. I love change, so I grasped at the opportunity, and have been very thankful for WiggleHigh5's support of my track ambitions the last couple of years, which was crucial to my goals of racing in Rio 2016.
Q: Is your focus for 2017 road or track cycling? What races are you targeting?
Amy – At the moment I am focusing on the track. I have the Track World Cups coming up next month in Cali and LA where I will hope to do well leading into the Hong Kong World Champs later on in April. I will then focus on the Road Teams Time Trial for the Road World Championships. After the Women's Adelaide Tour Down Under and the Cadel Evans Great Ocean Road Race, my passion for the road has really increased and I'm really looking forward to a strong road season also.
Nettie -I'm not ready for the track yet. This will be my sixth year on the international track scene, and after the intensity of last year it really is time for me to try something different. I've never had a full crack at the road, and am really looking forward to seeing how I can go. I'm often found scrambling for form throughout the road season, only feeling good in races in the latter part of the year, so hopefully this year I can go a bit better and have a crack at getting some results for myself as well as my team. The Commonwealth Games are in Australia next year so at this stage the plan is to go back and have another crack at that on the track.
At the moment I really want to focus on the classics. I'm finally feeling fit again so I'd like to give them a go (for the first time, as I always miss out due to the track). I think the one day, power races should suit my style; cobbles, short climbs, wind. That's my plan anyway! I'd also like to target China World Cup, a stage in the Giro, Ride London and the Road World Championships for Team Time Trial and Road Race.
Q: When do you head for Europe? Where are you based in Europe?
Amy – I will head over to Europe after the Track World Champs. My first race will be Tour of California in May.
Nettie – I have just arrived in Europe! I changed my flights and headed over early. I'll be based in Girona, Spain, where I was back in 2013 so I'm certainly looking forward to making the beautiful town my home again.
Q: Do you enjoy being on a team with women from around the world? Are there any language barriers?
Amy – I really enjoy it a lot. I'm quite a nervous person at the start if I don't know someone. I was really nervous to meet all the girls in Australia. But when I left it was like I had known them for ages. I missed them. 🙂 haha
Nettie – I love being in a multicultural team. It's fantastic. We have women from over 10 different nations. It really brings a different edge to the team. Everyone has their differences but what's interesting is just how much we have in common. We get along well and I find spending time with each different person really refreshing. Nope, there aren't any language barriers – everyone is pretty good! Mayuko struggled a bit in her first year with the team, but now has no trouble at all!
Q: Is it beneficial to have an Australian owner/manager and Directeur Sportif?
Amy – It is very nice to have an Aussie owner/manager and also Directeur Sportif. It makes communication easy but most important they are the best at what they do. They keep it professional. They can have a good laugh and fun moments, but when it's time to be serious, they are serious and work very well together. I believe this is what makes a great team.
Nettie – I guess it does make it a bit easier to communicate as we're often in the same part of the world at similar times.. and communication in general.
Q: How can we all raise the profile of professional women's cycling?
Nettie – Keep doing what we're doing! It's heading in the right direction. More media -> more profile -> more sponsors -> more opportunities -> more racing -> more longevity. It's getting there, we just have to keep pushing!
Since Amy Cure provided these answers she has  won the Team Pursuit and Points Race in Cali, Colombia, then took Gold with fellow Aussie Alexandra Manly in Los Angeles World Cup. And most recently won the Bendigo International Madison. A great start for 2017.
Did you enjoy reading about the Aussie women of Wiggle High5? Who else would you like WWC to interview? Share in comments or the Women Who Cycle Facebook page.