Bravo to La Course by Le Tour de France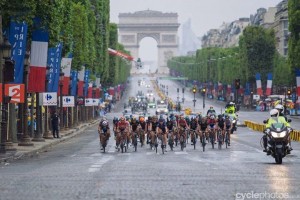 A lot of others wrote about La Course by Le Tour de France before the race took place on Sunday. Many wrote about its significance for women's cycling and I definitely agree with them. I had the pleasure of watching La Course on French TV in the middle of a warm and sunny Sunday afternoon in a bar appropriately named Cafe de Paris in the French Alps.
I was keen to watch it to see the women's pro peloton race in front of such a huge audience but also for the pure enjoyment of seeing them race. Unfortunately for the riders it rained throughout the race which meant there were quite a few crashes and plenty of abandonments. I found it exciting to watch and really admire the women who made it to the finish line. It was predicted to conclude in a bunch sprint but a dutch rider, Anna Van Der Breggen from the Rabo team broke away right near the end and survived to cross the line first.
La Course is in its second year and as a standalone event it's not really a big deal. Just one 89 km race around the city of Paris. The reason it's so important is what it represents. It's organised by the Tour de France to show their support of women's racing which to me is really symbolic.
La Course covers 89 km over 12 laps of the Champs-Elysees, the same course as the men's race follows once it reaches Paris. In this year's race there were 12 Australian riders on the start line, in a field of 120 riders which gave Aussies lots of reasons to watch, including five of the six Orica-AIS riders. Compare that to the 10 Australian men who started in a field of 200 in the Tour de France.
I read an interesting interview with Rochelle Gilmore, a fellow Aussie and owner/manager of the Wiggle Honda team about the race, and she pretty much said the same thing. Here's a few quotes from that article which appeared online in Sport Magazine in the UK.
"It's massive for the sport because the women now have a Tour de France event, on the Champs-Elysees on the final day of the men's Tour," Rochelle says. "We couldn't really ask for a better stage to perform on. So to achieve that was a huge step forwards in women's cycling.
"It gives a lot of recognition to our sport. In comparison to the men's Tour de France – yes, we have an event, it's a professional sport, same structure. So it's much easier to acquaint with men's cycling.
"There were a lot of petitions for many years, and a lot of female cyclists, fans and members of the public questioning: 'Is there a women's Tour de France?' Or: 'Why is there not?'
"So there was for many years women crying out for a Tour de France event. Obviously there's a lot of challenges for the organisers, but the fact it was achieved last year is massive," added Rochelle.
This race is also significant because of the prize money on offer. There's plenty of women in the pro peloton who don't get paid much and many who don't get paid to race at all. La Course offers a total prize purse of €22,500 ($34,000 AUD), which is equal to the total that the stage winner Andre Greipel of the Tour de France took home. The winner of the women's took home €6,000 paycheck ($9,050 AUD) and would no doubt have split it amongst her teammates.
While La Course is still new to the calendar, it isn't the first women's Tour de France race. From 1984-1988, women raced the Tour Feminin, a multi-day race held throughout France. At its maximum, the stage held included 15 stages in different locations around the country.
The Women's Tour de France, as it was known, was not held from 1989-1992. It was revived in 1993 and re-branded as 'Le Grand Boucle' (the big loop) in 1998. The newly named event ran for six years before it disappeared for one year, and returned as a diminished event with significantly fewer stages and a lower UCI ranking. In 2009, it was removed from the calendar entirely.
There's many other races that you can follow on the women's calendar but not many that receive TV coverage, so bravo to Le Tour de France for staging the race. I hope it continues for many years.