Meet graphic designer Sarina who manages to combine work with cycling passion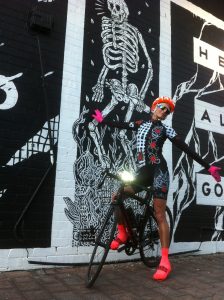 It's always great to hear a story where a woman has been able to combine work with cycling passion – meet Sarina Tomchin who runs a cycling apparel business called Cycology with her husband Michael.
Q: When and how did you get involved in cycling? Do you complete?
I started riding very young, riding to school and in a "bikie gang"….all of us riding hand me down BMX bikes or found on the street. I came up through SLSC; running, swimming and paddling.
When I arrived in Sydney to go to Sydney College of the Arts I bought my first 'expensive' bike ($300) from Albion Cycles to ride to college on. I would ride through Centennial Park on my steel frame bike with panniers full of art gear and keep up with all the guys riding in there. They introduced me to triathlon after asking if I could swim and run as well as I could ride. I began racing with the very first Nepean Triathlon and over the next six years did over 100 triathlons, biathlons, quadrathons, etc. All my flatmates cycled and we all started doing triathlons together.
I made up the name BRAT Club for our Bondi Run And Triathlon group and designed the very first logos and kits (they're still going strong!). I loved endurance trail running –and have raced and won (1st female) the 6 Foot Track. I started Adventure Racing and loved it too – especially the MTBing, so I took up Mountain Biking to improve that leg and over the next 6 years competed in many endurance MTBing events, 100km and 24 hours events –all on a Single Speed Hard Tail, winning my age group and categories.
I have always ridden road bikes –and now, ride one early nearly every morning, 4:30am -6:30am @ least 50kms with a long ride on the weekend and a MTB ride. I am doing the Bowral 160 km in two weeks, riding Melbourne to Adelaide in January (over 1,000kms in a week) and then will ride the Bupa 165 km Charity Ride.
 Q: How did you manage to combine your passion for cycling and art, and turn it into a job?
This is the second company I have started which combines my love of cycling and art/design. This one is with my husband Michael (who runs the business) and a good friend Dean (who does the "black magic" otherwise known as marketing). Designs come from my riding and inspiration comes from what happens out on the roads or trails and it's never ending. My riding buddy's wicked senses of humour, the stuff they say and do, sometimes just me on my bike and the emotions I experience imprint on my brain and I come home and draw and write design ideas down. The studio is full of sketch books with 1,000s of drawings and ideas. When you're out there suffering, everything hurting – the humour you share with friends is what I love best. Our company is fun: we all work hard and each of us has our different strengths and we work together really well.
 Q: The cycling scene in Australia is male-dominated, how do you handle that as a woman?
With MTBing I have found men to be brilliant, so supportive, helpful and eager to guide us girls – I have made some incredible friends. They go out of their way to teach, wait & help.
Road riding is a different mentality – and I have ridden with 1,000s of wonderful men, supportive and welcoming me to ride with their groups, letting me draft on their back wheels! But there is a tiny & rare minority (thankfully) who are super competitive, aggressive & rude – who can't stand being passed by a female (get over it) a few who have been incredibly rude but, the good guys apologise for bad guys behaviour and are also embarrassed by it. The funny thing is, there are also unfriendly female cyclists……they may be the only female in a group, and they don't want another female in their pack? C'est la vie.
I was just down in Melbourne for a few days and took my bike….each city has a different culture and Melbourne was great. The girls I rode with have a strong community and are very supportive. The St Kida Bike Club ride was brilliant and the men helped us and were great, accepting and treating us as equals.
Q: Are the rest of your family involved in cycling?
Yes, they all ride, but not as much as I do. I think coming home dripping blood after learning to MTB around Manly Dam, quite a few stitches, broken ribs, etc may have affected their desire to ride with me…..my youngest daughter rides everywhere, for pleasure, fitness, commuting to school……and joy.
 Q: What do you think we can do to encourage more women to take up cycling?
What can we do? Most women I talk to are scared about riding with traffic…..so I WISH is: all car/truck/bus drivers had to ride a bike with skinny tyres whilst someone ZOOMS past in a car or semi-trailer at 100 km/ hour, 10 cm away…so they could feel what it's like. I think if everyone had to experience that – the 1.5 metre distance rule would suddenly make sense to everyone. But, that's not gonna happen!
What we CAN do? I am seeing a lot more women riding, so I think smiling, waving, acknowledging, encouraging, talking to and helping women out on the roads and trails is a positive thing we can all personally do.
Helping with mechanicals, skills, training, nutrition for sports, etc is all going to make it a more pleasant experience for women.
I'm also designing performance cycle wear I hope women will love to wear, more fashionable – than traditional logo spattered ugly poly cycling gear. You don't have to look like our male counterparts in their 'mamil' event kits. I thoroughly test all our kits, sewing in chamois to ride test –I do 200 km rides in them to make sure they're comfy and perform, wash & dry 'em, mistreat them –so I know what they can be put through!
I love cycling and everything it gives me as a sport and lifestyle, plus the amazing people I meet while out on a bike –and I try to convey that with my artwork and hope that other people "get" what I'm on about, love it as much, and share the love.
How have you been able to combine work with cycling passion? Share your story in comments or the Women Who Cycle facebook page.