A cyclist's message to drivers and other road users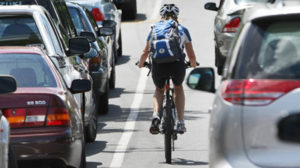 I came across a great Facebook post last week that was a great cyclist's message to drivers by fellow cyclist Brett Lambkin. So I contacted Brett and asked him if I could republish it here with some minor edits. I urge all the cyclists who read this to share it widely with all their non-cyclist network to help educate other road users, particularly car drivers. It sums up my own view perfectly….Over to Brett.
I am done arguing online with other road users so I'm just going to summarise my arguments and then let it go.
Cyclists are LEGALLY entitled to use an entire lane. If you don't like it, lobby to change the law. Yelling at us about it will change nothing.
Cyclists may legally ride two abreast.
Cyclists may NOT legally ride on the footpath unless they're under 12 years old or accompanying a child, so please stop saying 'Get on the footpath'.
Cyclists may legally lane-share which means they can ride between or beside lanes of traffic when traffic speed is less than 30kph.
Other vehicles may not drive closer than 1 metre to a cyclist or 1.5 metres if speed exceeds 60kph. It's the law.
Yeah, we wear lycra when we're training and racing – even when we're having a coffee afterwards. We don't bag you for wearing footy shorts when you obviously don't play footy, or gym-wear when you obviously either a) don't go to the gym, b) aren't going to the gym today, or c) are wasting your money going to the gym. If you don't like it, don't look.
The VAST majority of adult cyclists are also licensed, insured, registered car drivers, so we are already paying for road use – we're just doing less damage to the road when we choose to commute on a bike instead of in our cars. Again, if you want the law changed, get on with it! I don't make the laws.
Cars and trucks kill hundreds of other road users each year – bikes kill none.
The Government is tearing its hair out trying to get Aussies to exercise more, eat less, eat more healthily, quite smoking, drink less, stress less, maintain a healthy weight, combat Type II diabetes, reduce heart disease and mental health problems, reduce illicit drug use, asthma and arthritis. Cyclists are already doing all of these! Are you?
Cyclists place less strain on Medicare, which is struggling under the weight of overweight, diabetic, drug-using, alcoholic smokers.
Yeah, some cyclists break some road rules sometimes. So do other road users and pedestrians. Glass houses!!
Please tell me if waiting behind a cyclist has cost you more than 60 seconds this year. Nope? Me neither, so drop it. I have spent a lot of time waiting behind car drivers doing 10kph below the speed limit in the fast lane, but I don't yell at them on the way past or bag them online.
I think that's about it…
Share if you agree.
Please only argue if you have an actual argument – Shut up.  Fxxk off. Get off the road. I'll run you over and you should pay rego – are NOT actual arguments.
Don't get angry – get a bike! You get free health, fitness, stress relief and a bunch of new friends!
Thanks Brett, very well said.
Share your own cyclist's message to drivers via comments or the Women Who Cycle Facebook page.