FEMALE ROADIES – YOU SHOULD TRY CYCLOCROSS IN AUSTRALIA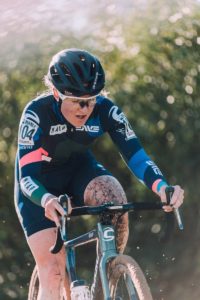 The sport of Cyclocross in Australia is relatively new to the local cycling scene. I first wrote about it in 2014 and have my interest reinvigorated by my friend Niki (who I met on a cycling tour in Japan last year) because she's very enthusiastic about cyclocross and its potential to grow in Sydney and Australia. So what is cyclocross, I hear you ask.
Some describe it as a combination of mountain biking, road cycling and criterium racing into one challenging event. Most races last for 30 minutes to an hour on a closed, twisty circuit of 2.5 to 3.5 km. The course surfaces consist of pavement, grass, dirt and sand peppered with obstacles, such as steps and barriers. Participants must conquer these by rapidly dismounting and carrying their bikes while running, then remounting on the fly. Aerobic endurance, bike handling skills and even tyre pressure are key factors in achieving victory. The messy conditions brought on by variable winter weather (this applies in Europe where it originated) often make for a slippery mudfest, as documented in countless images like this one.
The sport originated during the early 1900s as steeplechase — races between towns, in which off-road shortcuts across the countryside were permitted. This later evolved into an off-season training technique for road cyclists. It spread from France to the Netherlands and Belgium and other bike-racing nations in Europe, and has continued to gain popularity in the US since the 1990s.
Special bicycles used for cross racing draw on characteristics of other cycling sports. Like road bikes, cross bikes are lightweight with drop handlebars and skinny tyres. But, as with mountain bikes, the tires are knobby for traction to grind up hills, the frames are stronger, and disc brakes are standard issue. The bottom bracket, fork and seat stay clearance are more generous to contend with muck and debris on the course. Not everyone who participates in the sport has a dedicated cross bike, but those who get into the sport, will usually buy a dedicated bike.
Similar to mountainbiking, it is family friendly and good for all ages as it's contained within a park, field or paddock so there are no cars to contend with, like you have in road cycling.
In Australia it's starting to gain some interest and it even has a national series as well as cycling clubs running individual events. These are listed on the Cyclocross Calendar Australia Facebook page. The first round is in Adelaide in June.
The 2019 national Cyclocross Season
Round 1 & 2: 1 & 2 June, Adelaide SA hosted by Port Adelaide CC
Round 3 & 4: 22 & 23 June, Ballarat Vic hosted by Ballarat Sebastopol CC
Round 5 & 6: 20 & 21 July, Samford Qld hosted by D'Aguilar Range MTB Club
Round 7: 10 & 11 August, National Championship, Sam Miranda Winery, Oxely Vic
Round 8 & 9: 17 & 18 August, Broadford Vic hosted by Fields of Joy/Sunbury CC
If you're interested in trying Cyclocross there are also other races held regularly around Australia. For example, the Central Coast Cycling Club hosts a Cyclocross series that begins on 13 April 2019.
If you want to know what it takes to start getting into Cyclocross the read and excellent beginner's guide from nerverush.com.
Share your experiences of cyclocross in Australia via comments or the Women Who Cycle Facebook page.