Dressing for cool weather for women cyclists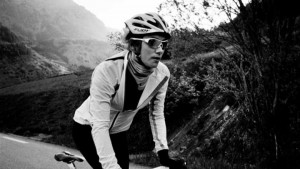 I'm very lucky that I live in a place with a temperate climate which affords me warm summers and cool (not really cold) winters. In researching for this blog post I read about dressing for sub-zero temperatures which thankfully I've never experienced on my bike so I won't be covering that here.
I thought it would be useful to share with you how I cope with my cool winters and the autumn and spring temperatures in between.
Firstly, it's important to still look good and colour coordinated. Just because it's cold doesn't mean you need to lose all sense of style.
The secret rests with layers. Things you can take off and store in your pockets if you get too hot. The easiest way to test if you've got too much on, is if you're already warm before you start your ride, you'll be hot within a short period of time. You should be cool rather than cold before you start so you'll be just right when you're in the middle of your ride. Also, don't forget to factor in the outdoor café at the end of the ride.
Autumn/Spring dressing
In Autumn (also known as Fall to many of you) and Spring the key to comfortable cycling is wearing layers so you can peal them off in necessary after you've warmed up and then put them back on when you reach the café and sit outdoors.
The first things I add to my standard summer riding kit (bib knicks, short sleeve jersey, bra, headband socks and shoes) when temperatures begin to cool (for me this is usually 16 degrees Celsius or less) is add a singlet top underneath and arm warmers. I also wear a headband that catches the sweat in summer and keeps my hair out of my eyes, and in cooler weather can go over my ears to keep the wind out.
The next step (14 degrees Celsius or less) is to wear ¾ length bib knicks. Men look pretty ordinary in ¾ length knicks but women look great in them so take advantage of that. I might also add a short sleeve thermal top underneath my short sleeve jersey and of course continue with my arm warmers.
When it gets a bit cooler I'll also consider toe covers for my shoes which just block out the wind from moving around your toes. You could also add a gillett which is a windproof vest that goes over the top of your jersey. I've just ordered one online but haven't tried it out yet. One of my friends swears by hers.
Winter dressing
I've ridden my way through three winter seasons and each year I seem to add a few more items to my arsenal.
For those mornings that are around 10 degrees Celsius I don't pull out my full winter kit I just go with a few layers like the thermal top under my jersey, arm warmers and full length thermal tights over my knicks. I would also consider long finger gloves which are still thin fabric but keep you fingers warm.
I save the really warm stuff for mornings that are 8 degrees Celsius or less. This includes full length fleecy lined bib knicks, a long sleeve thermal top, long sleeve jacket-style jersey (it still has pockets in the back), full shoe covers/booties, polar fleece headband and if it gets down to 5 degrees Celsius I also wear thicker gloves which I call my 'toasty gloves'. I call this outfit the 'sealed unit' because the only part of me that's exposed is my face and part of my neck.
I have to confess that I get cold pretty easily so this might all be a bit too much for people with a different way of dealing with being cold. I'm the person that only goes swimming when the temperature hits 35 degrees outside and turns the heater on at the first sign of cool weather.
Above all else if you live in a great climate like mine then you shouldn't have any excuse for not riding all year round. Harden up will you.