enjoy a cycling adventure in new zealand
When Rachel from Adventurers Travel Company made contact with me a couple of weeks ago I must admit I thought why would a road cyclist be interested in a cycling adventure in New Zealand, especially a mountain bike adventure. But then I read a bit more and realised that Rachel's tours are a great adventure for anyone who likes riding. So I asked Rachel to share her very own adventure with us….
Adventurer – A person who seeks or enjoys adventure.
How my Biking Adventures started
My biking journey started when I moved from Wales to New Zealand to live with a biking mad kiwi man I'd met whilst travelling in New Zealand. I'd dabbled in riding before, some social rides with mates, a couple of goes at doing some single track on a weekend away, but never really biked.
Luckily for me New Zealand has a great landscape for biking, there is beautiful scenery, a huge variety of trails and lots of forest and wilderness to explore. My partner and I wanted to get out and make the most of some of the backcountry adventure trails that were on offer. The only problem was my fitness and also skill when it came it to off road trails.
Getting biking fit
Over the last 4 years I have worked on my fitness, hill climbing, endurance, technical skills and most importantly tenacity! With guidance from my ever-supportive partner, sometimes training by myself and sometimes with the encouragement and comradeship of Cranksistas – a lady's MTB club.
A key point that I realised is that off-road technical skills come with practice and fitness. One thing that really helped me was to spend a decent amount of time out riding on gravel and forestry roads, some of these can be steep, uneven and generally very good at getting your heart thumping. Doing these types of rides helped build up my confidence and encouraged me to learn more skills and try out riding more single track.
All in all I have found that biking has not only got me fitter, but it has made me stronger (both physically and mentally) and most importantly braver. I have shown more 'grit' than I even knew I had! Not to mention meeting some great people and making some awesome mates along the way.
I have learned, like Nicola mentioned in her "10 things I have learnt about road cycling" blog, not to underestimate myself. I can do things I never thought possible, and I can deal with the physically tough days and survive! Sometimes it hurts but it's only for a short time and it's not long before I'm in the café (or the pub) afterwards laughing about it. The key is good preparation, in training and in kit, and having the tenacity to stick to your goal.
My Business Adventure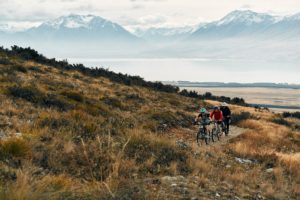 Starting up Adventurers has been one of my many adventures since coming to NZ. The business was born out of all the knowledge and passion for New Zealand biking that we have accumulated over the years. We had a huge wealth of knowledge from planning our own rides and adventures, and what better way than to encourage and facilitate more people to get out there and ride by building personalised biking and adventure holidays.
So now I work with clients to understand their needs and wants, fitness and skill, then organise a tailored biking or hiking or generally outdoorsy holiday for them. The unique thing about Adventurers is that it is a niche travel agency, you use my knowledge and research to plan and book the holiday you want.
A Favourite Biking Adventure
One of my favourite biking adventures in New Zealand is the Alps 2 Ocean. This is a spectacular journey from the Southern Alps to the East coast, over 300Km of off-road trail. It is the country's longest continuous trail and takes in some of New Zealand's best scenery, so it is no wonder it has become a must do trail for many.
You can stay in some great accommodation; country lodges and glamping. Glamping has to be the coolest experience for me, along with treating yourself to some well-earned fantastic local food and wine when you rest up in the evenings. The best thing is our provider will shuttle your luggage from point to point each day and even transport you if you fancy a day off along the way.
The ride can be done in 5-7 days and it is very popular with groups of ladies. It has manageable distances each day, is not technical and is one of NZ's Great Rides. The quality of the track build throughout is really good meaning that you can ride this on cyclocross bikes, comfort bikes, hardtails, or even a Penny Farthing (I'm reliably told it has been done!)
If you're like me and love riding with your friends, it is hard to beat this multi-day ride journeying from the mountains to the coast and experiencing that feeling of achievement when you reach the end and your objective together!
Adventurers can organise all sorts of biking adventures in New Zealand. Get in touch to start the conversation with Rachel here.
Tell us about your cycling adventure in New Zealand. Share via comments or the Women Who Cycle Facebook page.