Exciting women's pro road racing cycling calendar for 2016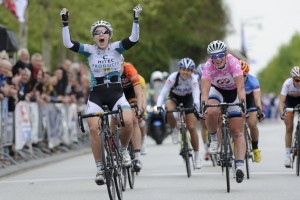 I know I said last year was going to be an awesome year for professional women's road cycling and 2016 is shaping up to be even better. Here's a few races that you should definitely follow this year. Unfortunately we won't see too many of them on TV in Australia but you can keep up with them, and other races via social media and various internet sites. Cycling Tips Ella has great coverage of women's racing as well as Prowomenscycling.com.
6 May to 8 May – Tour of Chongming Island, China
This event is the first multi-day event of the Women's World Tour. It consists of a two day stage race, and a stand alone race that in previous years has served as a Women's World Cup round. The terrain is pretty flat, making this a race for a team that works together to protect their sprinter.
19 May to 22 May: Amgen Tour of California, USA
This race is going from strength to strength and continues to grow. In 2016 it includes four stages including a time trial, up from three last year. Stage one circles the South Lake Tahoe – the largest alpine lake in North America, stage two is a time trial around Folsom Lake, stage three explores Santa Rosa, before the finale – a hard and fast crit around Sacramento – on the same day as the men's stage eight finish.
15 June to 19 June: Aviva Womens Tour, Great Britain
This is the third edition of the five day race, and organisers promise that it will be even "bigger and better".
Every stage last year resulted in a breakaway that was eventually caught, forcing an exciting sprint finish. Tune in this year to see if it pans out the same way.
1 July to 10 July: Giro d'Italia Internazionale Femminile, Italy
The longest stage race in the calendar, the Giro Rosa attracts some of the biggest names in women's cycling as riders battle it out for the Pink Leaders Jersey, as well as the Purple Points Jersey, Green Queen of the Mountain Jersey, White Young Riders and Blue Best Italian Jersey.
Covering ten days and nine stages, there's plenty of scope for multiple leader shake ups as the race progresses. Just a pity that it overlaps with the Tour de France so misses out on a lot of sports media coverage.
25 July: La Course by Le Tour de France, France
The product of petitioning from a group of pro cyclists, including Marianne Vos, La Course by Le Tour de France has been seen as a breakthrough event by riders and fans alike since its creation in 2014.
The 89 km race covers 13 laps of the route the men use to finish off the three week Tour de France – and being flat all the way around, it is likely to culminate in a bunch sprint.
5 to 25 August: Olympic Games in Rio de Janeiro, Brazil
This is one of our only opportunities to see guaranteed television coverage of women's cycling when our Aussie women will contest the individual time trial and the women's road race. The women's road race will take place on Sunday, 7 August and the time trial on Wednesday, 10 August. There's also great women's track cycling at the Olympics.
11 September: LA MADRID CHALLENGE By La Vuelta, Spain
Copying the format of La Course, this race makes use of the crowds gathered for the final stage of the men's Grand Tour – La Vuelta.
The race covers laps of the Madrid city centre, eventually totalling to 87 km.
9-16 October: 2016 UCI Road World Championships, Doha Qatar
The Worlds typically take place in September but with concerns over the heat at Doha during that time of year, the scheduled program has been pushed back. It sounds like a sprinters paradise to me and will suit riders who cope well with heat and crosswinds!