Addventageous – female cyclists encouraging other riders to join them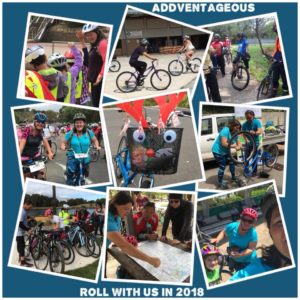 If you're a regular reader of this blog then you'll know I love to share a story about female cyclists encouraging other riders to join them. At an event last month I met up with Lisa Nicholls who works for a Parramatta-based social enterprise called Addventageous. I was intrigued by her work and thought I'd share a little about Addventageous with my readers.
Addventageous is a social enterprise founded by Charlene Bordley. Her aim is to socially connect communities through the joy of cycling by providing affordable and accessible cycling programs and services for all members of the community. In case you're wondering as I was, a social enterprise is a commercially viable businesses existing to benefit the public and the community.
Charlene's social enterprise started with a simple idea – by teaching people to ride, you are building confidence and life skills where both the participant and the wider community can benefit from each day.
One of their most ambitious programs is called Her Cycling Connections. It started this year in the Cumberland area for unemployed women over 18.  Unlike many cycling programs, this initiative supports women from the beginning of their cycling journey, but reaches beyond that with the aim of training them to become ride leaders and encourage other female riders in their area.
"All along the way, we teach, mentor and help them use cycling as an active form of transport and empower themselves at the same time. Another side benefit is that these women will spread the joy of cycling with their family and friends, increasing participation rates of cycling whilst reducing health issues within the community," said Charlene.
"We see women are the key to this as they are often the decision makers in the family when it comes in particular to children's activities.  We have already had success in this with participants buying new bikes and eagerly getting ready to ride with their kids, whilst other participants have made huge gains with their mental health," added Charlene.
The program is free and includes drop-in sessions held each Wednesday morning at the bike safety track in a local park. Bikes and helmets are also provided for free.
The drop-in sessions focus on skills, followed by led rides within the area for the more confident riders, and those wanting to become ride leaders. Ride leaders are also taught skills like route planning.
In the first six months of the program they have had 20 women from different backgrounds join them. Some of the participants have overcome health conditions, and have made great changes in their lives. They've even had two of the women become ride leaders already. And most will take part in the Spring Cycle in October as a celebration of their achievements, with the new ride leaders mentoring the newer riders.
This program is currently funded through a grant provided through Cumberland Council in partnership with Bicycle NSW. You can follow the group's progress via their Facebook page.
Share your stories about female cyclists encouraging other riders to join them via comments or the Women Who Cycle Facebook page.