Female cyclists – Why not give bib shorts a go?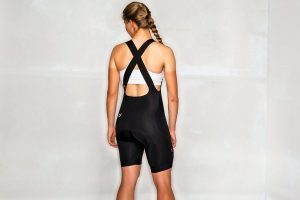 Whether you wear bib shorts (also known as bib knicks) or non bib shorts is a personal decision but I urge all female riders to at least give bib shorts a go.
However there are two things that I think are non-negotiable if you want to be part of the crowd. One is that you should wear shorts, rather than shorts or gym pants, and secondly you shouldn't wear any underwear underneath them. They are designed to be worn without undies and as long as they are not see-through it should be fine to do so without causing offence to your fellow riders.
When I started riding eight years ago I did what most people do and headed for a bike shop and bought the cheapest plain black shorts I could find. These were relatively comfortable, affordable and served me well. As you would expect they weren't bib shorts. At the time I probably wasn't even aware that bib shorts existed and if I was, I thought they were for experienced riders.
My conversion occurred when I had the opportunity to order some bib shorts that were part of my ride uniform in the First Data team to complete my second JDRF ride in January 2010. My partner suggested I give them a try, because they didn't cost me anything I thought, why not?
To my surprise I found them more comfortable than regular shorts and all my shorts are now bib style. This is mainly because they don't cut you around the middle and sort of hold everything firm. Thanks in part to my devotion to cycling, I don't have a large girth but even for me they are more comfortable than regular ones. They also eliminate that annoying gap you sometimes get on your lower back between your shorts and jersey when the jersey starts to ride up and your skin is exposed. Plus, they guard against any muffin top!
The only detraction is that they are a bit harder to get off when you want to go to the toilet. You have to take your top off first but this isn't a huge hassle. Just make sure you put your bra, heart rate strap and thermal top (essential if it's a bit chilly) underneath the bib part of the shorts so it's only your outer layer top you need to remove. And a full zip jersey is an essential to make this easier.
More and more cycle clothing manufacturers are making women's bib shorts so it shouldn't be too hard to track them down. There are the usual online sites but some retailers will also have them available if you shop around.
I work in a bike shop and regularly sell bib shorts to women, and not one of them has ever returned to tell me that they didn't like them. Just about all of my friends are devotees as well so they can't all be wrong.
So girls, why not give bib shorts a go? You might be surprised how much you like them. Share your thoughts via comments or the Women Who Cycle Facebook page.