An interview with tracey Gaudry – UCI Women's Commission President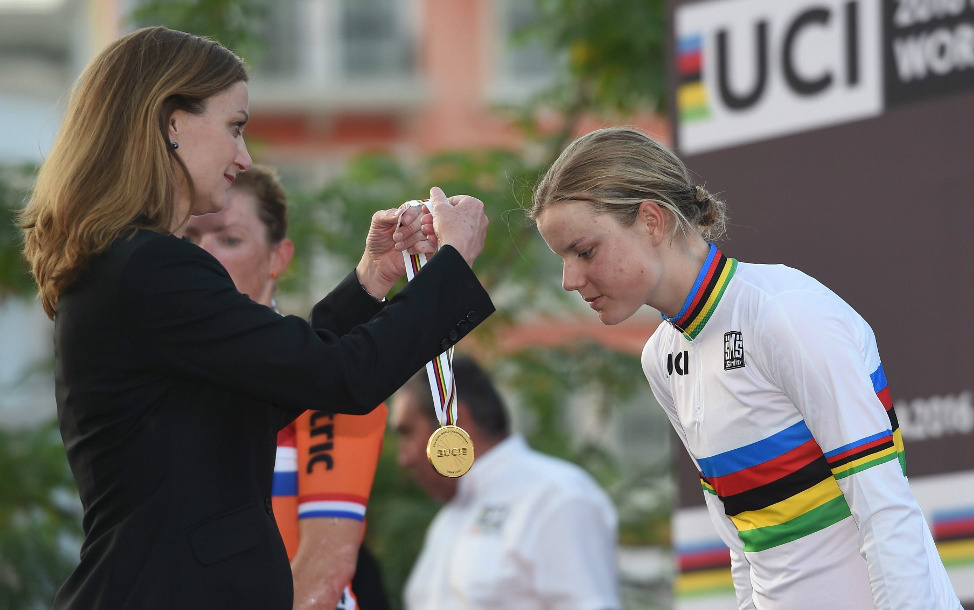 I was lucky to have a face-to-face interview with Tracey Gaudry who is the UCI Women's Commission President, as well as the President of the Oceania Cycling Confederation, a member of the UCI Management Committee. And that's just her volunteer role, she's also the CEO of Respect Victoria, a new Victorian Government initiative to combat family violence.
So I was grateful to sit down for a chat in between meetings. Her achievements in the sport of cycling speak for themselves as a competitor and now an administrator. She's also a mother of three and typifies that adage that if you want something done you should ask a busy woman who'll somehow fit it into her already busy life.
As Tracey outlined the achievements so far of the UCI Women's Commission I couldn't help but interrupt and ask her how she maintains her enthusiasm. Her answer impressed me "It's easy. It's my life mission or my own personal mantra if you will. I feel strongly that athletes like me who got so much from a sport have an obligation to give back.
"My choice of volunteering happens to be at the highest level. It's my way of giving back. It's very hard work, very political, very draining, but that's the choice I make. My overall focus is on shifting the paradigm, and getting it going and keeping it going are two of the hardest things. People like me need to know when it's time to leave off but right there's more to be done as we move into governance and focus on return on investment for those involved in women's cycling," she said.
After nearly seven years with the UCI, Tracey is nowhalfway through second term, and while she doesn't like to describe herself as a trailblazer I think that's exactly what she is as the first-ever female elected to UCI board.
So when the UCI Women's Commission was formed with representatives from the different aspects of the sport – riders, teams, organisers, tech, governance, industry, marketing, the focus was on a quick-wins. So they focused on things right in front of them that had already been flagged by women in sport as issues like race distances, team sizes, and equipment. There have been material improvements like the equal number of medals for men and women at Olympic Games and same number of women in the track team pursuit racing over the same distance as men.
"A big part of my role is largely unseen by others. I've spent lots of time lobbying internally with UCI for funding and advocating for budget. The money had to come from somewhere because there's no new money. I needed to prove the return on investment for women's cycling in all the disciplines. This has resulted in equalising prize money at UCI events," she added.
And while Tracey's remit is global cycling she takes a keen interest in her own country – Australia. "Australian cyclists punch above their weight on the world stage and given how far we are geographically from Europe they achieve so much.
"As a nation, we're very well regarded internationally and we host exceptional world-class cycling events in all disciplines. The Cadel Evans Road Race is a great example of that the women's race has recently been elevated to World Tour level. We also have the UCI Road World Championships in Wollongong in 2022. We're very proactive in the way we present cycling.
Sadly for Tracey, she rarely gets to ride her own bike. She spends most of her time working on the sport rather than in the sport. She also rarely gets to watch bike racing except when she's attending in an official capacity. When she's at big races she likes to get amongst it, be in the convoy in the car, hang around the teams and integrate herself into the race. "It's part of DNA – part of the joy and reward for the effort. I believe that more people like me when they hang up their bike should find a way to contribute back to the sport," said Tracey.
What are your thoughts after reading my interview with Tracey Gaudry? Do you volunteer your time? Use comments or the Women Who Cycle Facebook page to join the conversation.