Kristy Scrymgeour – the next phase for a women's cycling advocate
I first met Kristy Scrymgeour four years ago, not long after I'd started this blog. Over those four years she's been on quite a journey so it was great to catch up with her last month overlooking the iconic Maroubra Beach during her annual pilgrimage to her home town.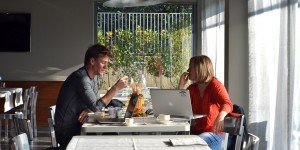 For those of you who follow the women's pro peleton in Europe and the US you'll know that Kristy has spent the past four years running her own women's cycling team. It was initially called Specialized-lululemon and more recently Velocio-SRAM. You might also know that Kristy and her team folded at the end of 2015, leaving her to forge a new direction.
I won't dwell on the demise of the team because that has been well-documented elsewhere. Although I will say that Kristy appeared a lot more relaxed when we met than she had been previously, because the weight of running the team, particuarly from a financial point of view has been lifted off her shoulders.
I'd rather focus on her future, and that's her business Velocio Apparel which she runs from the US with a number of business partners.
Velocio began a couple of years ago and has been gradually gaining traction in the highly competitive market of cycling apparel. From my perspective as a keen cyclist they appear to be doing everything right. The brand was created from the ground up to meet a need for high quality, classic cycling kit, that fits well and is extremely functional. I know I sound like I'm being paid to write this post but I'm just a huge fan of the philosophy behind Velocio.
Kristy describes the business as still being in the start-up phase, and this year, without the burden on running a cycling team, she hopes to ramp it up and take on some more staff. Currently the business is focused primarily on its online but Velocio is also working with retailers like Cycle Closet in Adelaide and Maroubra Cycles in Sydney.
Kristy handles the customer service herself which gives her a lifeline to customers. It gives her the chance to converse with them about what they do and don't like, and to tweak things along the way. She says there's been very few quality issues with the product because they use only high quality fabrics and manufacture in Italy.
Unlike many of its competitors Velocio will only ever put old stock on sale which is part of the brand philosophy about providing a high quality product at a reasonble price. I can attest that the Velocio product is high quality and very nice to wear. Read my past reviews on my 'Products' page if you want to know more. You might initially think it's a bit expensive but you definitely get what you pay for.
Kristy says she gets a real buzz when she sees someone wearing Velocio kit, although she admits that this doesn't happen very often. She tells me that five new cycling apparel brands have been launched in Australia in the past 12 months. You only have to ride a bike around anywhere in Australia to see the multitude of different gear on offer.
One thing I really admire about Kristy is her honesty and down-to-earth approach to life. Not long after we met I received a group email from her to admit that she was still paying off the debts of the Velocio-SRAM team and therefore couldn't afford to post T-shirts she'd promised as part of a crowd-funding project in 2015. Most people who have snuck away quietly or written a wishy-washy missive and hoped for the best. But she faced in head-on in a really straightforward manner, and I think that's reflected in the Velocio brand.
And despite all that she's been through with her team, she's still very passionate about encouraging more women to ride bikes. A true cycling advocate. Keep up the good work Kristy.
And here's the final word on the subject from Kristy as featured on the Velocio.cc website "Riding is such a social activity for a lot of people. Feeling good on the bike is important and also feeling like you look good is pretty motivating. I hope this brand can contribute to the growth of women's cycling in some small way. As a company we really believe in that and as we grow we'll be involved in helping the sport grow as much as we can."