Podium girls are outdated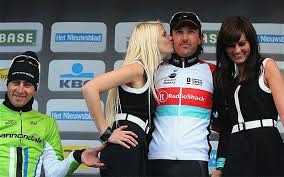 I know this will probably not be a popular post with traditionalists, but I'm of the view that podium girls at men's professional cycling races belong in another era and need to go. For me this topic is very top-of-mind because my partner Phillip and I are currently following the Tour de France in a campervan and I write this from the foothills of the great Pyrenees.
The use of pretty women on podiums is demeaning to all women. It says that women are there just to look good in photographs, and to compliment the athleticism of men. I know that women line up for the privilege of standing beside a man on the podium. Apparently 500 apply every year. Most are models who see it as an opportunity to get a break and perhaps to travel around France for three weeks. I'm not trying to say that these women are worthless, but they are putting themselves forward as trophies not human beings.
When Peter Sagan pinched one of them on the derriere a few years ago I actually thought it was pretty funny. To me he was pointing out how stupid the role of podium girl actually is to many people. Instead it was interpreted as rudeness and he was forced to apologise to her. Maybe we take it all a bit too seriously.
And maybe I'm taking it all too seriously as well. But in an era when women's sport struggles to get any recognition, perhaps doing away with this outdated tradition and organising more parallel women's pro cycle races alongside the men's, would be a better use of our energy.