Should I buy a gravel bike?
For any regular readers, you'll know that I'm a fan of multiple bike ownership and I know lots of women ponder the question – Should I buy a gravel bike? Of course, like most bike-related questions it depends on where you want to ride it, and how much garage or spare room space you have available, and whether it's your only bike.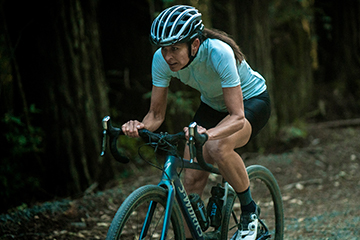 I'm a member of two great FB groups for female cyclists and many of the members of those groups live in the northern hemisphere in colder climates than mine and choose to own a 'winter' bike. Living in a temperate climate like Sydney means you don't actually need a bike for cold weather, but there's still room for a gravel road bike in my garage.
When I first started riding the gravel bike didn't exist, except as a cyclocross bike, designed mainly to compete in CX events. CX bikes are dedicated racing machines with unapologetically aggressive geometry. Then there's touring bikes that are designed to roll huge mileages in great comfort, whilst balancing the burden of bike packing. The gravel bike is somewhere between these two drop-bar off-road capable designs.
My own gravel bike is a Specialized Diverge which I've owned for about five years and I confess that I have never taken it on a specific gravel adventure. I have, however, taken it overseas on a bike tour, and have ridden it on rainy days on the road. It is capable of riding in 'gravel', although I'd probably change from my smooth tyres to nobbly ones.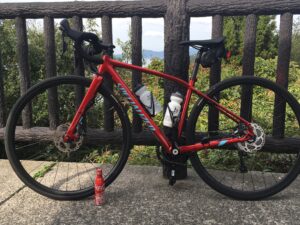 My Diverge has an aluminium frame making it much lower cost than my high-end carbon road bike so it's great for rides where I have to leave it outside (with a lock) or when I think I might get wet.
You will notice that I also mention my other bike. My preference is to mainly ride a lightweight more performance-focused carbon road bike, but my aluminium Diverge makes an excellent second bike. When I ride it up steep hills I certainly notice that it's about two kilograms heavier than my Tarmac!!
The attraction for an adventure or gravel bike is that riders can take it on all roads. You can ride tarmac and then transition onto gravel roads or even flowing single-track forest trails.
I prefer the term 'Adventure' road bike rather than 'Gravel'. When Specialized first launched the Diverge in 2014 they used 'Adventure' and think it describes the category better.
Like all road bikes though, adventure bikes sit on a wide spectrum, running from almost-road-bikes to almost-mountain-bikes. Designs have diverged in this way because people use gravel bikes so differently. That's why it's so important, to be honest with yourself about how and where you plan to use this bike, as well as being honest about your comfort level off-road.
As a category, I think they make excellent 'winter' bikes. Equipped to cope with rain and snow, as will a general road detritus, including the corrosive powers of salt grit scattered on the roads to counter ice. Key features include winter tyres, designed to provide grip and comfort, disc brakes that cope well with wet conditions, and bike mudguards/fenders. All these things can be fitted more easily to a gravel bike than a high-end carbon bike.
Another nice feature of the current Specialized Diverge is that all the carbon models and some of the aluminium versions are equipped with Specialized's Future Shock fork, giving 20 mm of travel at the headset to reduce vibrations and their negative effects on handling and fatigue. My own Diverge missed out on this great feature but it's still nice and comfy to ride.
There's plenty of articles on the Internet about choosing the right gravel bike including this one from Cycling Tips and another from bikeradar.com about the benefits of gravel bikes.
In summary, for me, a gravel bike makes an awesome second bike but I wouldn't have it as my one and only road bike.
And if you want to ask other women about their experiences join the FB Groups – VeloVixen Women's Cycling Chat (10,000 members) and GCN Women's Cycling Community (9,000 members).
How about you? How would you answer the question – Should I buy a gravel bike? Share your experiences via comments or the Women Who Cycle Facebook page.