Strongher – a movement to inspire more women to ride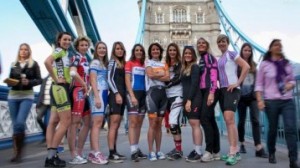 I was really interested to read over the weekend about a new women's international cycling initiative called Strongher. I must admit that when I first saw the name I thought it was some sort of weird European spelling for the word 'Stronger', but on my second attempt I realised it was the combination of 'Strong' and 'Her' which is quite clever.
The founders of the movement, aiming to "give women a stage to show themselves", are a large bunch of female professional cyclists. It was launched in London over the weekend by professional cyclists Marianne Vos, Hannah Barnes, Lauren Kitchen, Manon Carpenter, Marijn de Vries, Lucinda Brand, Juliet Elliott and Rebecca Charlton.
They describe it as a unique international movement with the impressive title of "Strongher, The Stage for Women Who Ride" with the goals of the continued development of women's cycling, giving women a stage to show themselves and getting more women on bikes.
Strongher is a movement that aims to connect the professional and grassroots worlds and unify all the various global women cycling initiatives under a shared and common goal to create a stage for women around the world to show themselves. The media release states "It is one of the most unique and important initiatives in the history of the sport". Go girls.
Strongher will have both an online and offline presence. Online, Strongher will serve as a hub to connect women worldwide and collect information on who is cycling, where they are cycling and what kind of cycling they do. A newly developed app will let women ride and chat with each other. And offline, they are developing new events to get more women riding. Strongher also intends to seek cooperation with organisations like L'Etape de Tour and proposals to create races like an Amstel Gold Race for professional cyclists.
Founder of Strongher Marianne Vos said; "Women's cycling is getting more and more popular and as the sport is growing more initiatives are being developed. The time is right for women's cycling to take the stage and close the gap to the men, Strongher will be this stage. We want to increase the exposure of all the professional athletes and reveal the people and characters of the sports. We want to give amateur women the confidence they need to start racing, developing events and other grassroots initiatives, inspiring women to take up cycling for the first time and giving everyone the belief they can achieve and giving them a stage to show themselves,"
"Of course, this cannot be done without the support of the industry and Strongher is setting out to bring together all the stakeholders in cycling –the federations, communities, athletes, events and companies – which is something stakeholder Shimano has supported from the beginning."
Among the many pro's and ambassadors of Strongher are multiple world champion Dutch rider Marianne Vos, Australians Lauren Kitchen, Gracie Elvin, Amanda Spratt and Shara Gillow, plus many other current and former riders.
It sounds like a fantastic idea to me. I'll certainly be keeping on eye on their progress. Well done to an awesome bunch of women.