Why you should support your local bike shop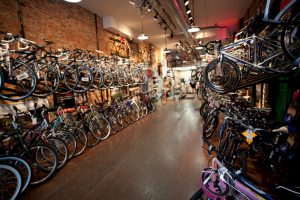 Most bike shops in Australia are independent retailers operating as sole traders, and even the ones who are dealers for major brands like Specialized are still one-off local retail outlets. A few chains are starting to emerge like 99Bikes but the market in Australia remains fragmented and 'local'.
These small business operators are realistic enough to understand the online marketplace but there's a number of reasons why you should continue to support them even if you do some of your purchasing online.
Because it might not be there when you need help
Put simply, if everyone did all their purchasing online, then local bike shops would make no money and most of them would close. If you then decided you weren't able to fix your own bike or find that elusive spare part, there would be no local bike shop to help you out. You'd find you would be travelling miles and lining up with the masses to get your bike repaired.
You can't get your bike repaired online
While some people are great at fixing and servicing their own bikes, the majority of us are either not capable, or don't have the time to do it ourselves. So even if you buy all your cycling products online you'll still need to visit your local bike shop on a regular basis to get your bike serviced.
Bikes are just like cars in that they need regularly servicing because parts wear-out and fail, and the bike stops functioning correctly. Over time the chain on your bike will stretch, and in turn it will wear down the teeth on your cassette and chain rings. If you change the chain regularly you'll decrease the wear on the other parts. Brakes also need regularly attention, particularly disc brakes which are becoming more and more common on mountain and road bikes. This is the sort of advise you will only get from a bike shop, not from an Internet forum where you will learn all sorts of contradictory information.
You will become part of your local riding community
Local bike shops are a great way to meet other like-minded cyclists. You'll find the owners and staff are usually keen riders themselves and happy to invite you along on their regular shop rides. If the first  bike shop you visit doesn't cater for your style of riding then find one that does. There's no reason why you have to frequent the bike shop that is geographically closest to your home.
There are some products you can only buy from retailers
There are some bicycle product wholesalers who support bricks and mortar retailers and don't allow their products to be sold online. You'll find this with Specialized products in Australia where you can only buy Specialized bikes and accessories for authorised dealers.
You can't try on or touch and feel items online
If you want to see a product or try it on before you make a purchase, then you need to visit a physical store. Of course you can order an items online and if you don't' like it you can return it but it can be a huge hassle particularly if the item is a bike or another large item and you bought it from overseas.
Share you experience of your local bike shop, both good and bad.