You should try road bike racing with a cycling club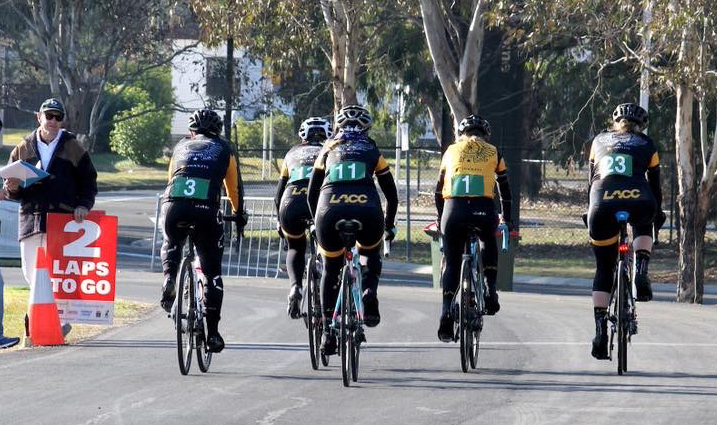 I consider cycling to be a recreational pursuit and a form of exercise but there are plenty of road cyclists who also see cycling as a sport and perhaps you should try road bike racing if, like me, you love all things cycling.
I confess that I've actually done just that – try road bike racing, and I've decided it's not for me. However, it might be just the right thing for you so why not give it a go.
There are cycling clubs all over my hometown of Sydney that regularly run road bike racing, including my own club – Lidcombe-Auburn Cycle Club (LACC). We get plenty of riders attending our regular events, but most of them are men and it would be great to see more women participating.
But first, here's my story….
I've spent my whole life being the 'non-sporty' type. I remember being reasonably involved in little athletics and other sport when I was at primary school but once I reached high school I tried my hardest to get out of any sporting endeavour, particularly any competitive one!!! At my school, the sporty girls were encouraged to be involved but if you weren't any good at sport like me you could easily glide under the radar.
I think this was a real problem with physical education when I was at school and I hope it's changed a bit. If you didn't participate in an organised sport, then you pretty much did no physical activity except for a once a week PE session.
So when I started cycling my motivation was not to compete but just to get fit and have a bit of fun.
One of my riding buddies Michell was the one who got me to the starting line of my first race. It was the Waratah Veterans race at Eastern Creek and I raced 'F' grade. They call it a social grade and award no prizes. From memory, I think I came fourth in a field of six but I quite enjoyed it.
After that, I raced a few more times with my club LACC at the tennis centre at Sydney Olympic Park, competed in a club time trial championship at Penrith Regatta Centre, and a club championship at Horsley Park.
The main benefit I've gained from participating in races is learning how to push myself to my physical limits. This is a totally new concept to me. For anyone who's participated in competitive sport, this will probably sound a bit silly but for me it's reality. And just in case you're wondering……… I felt sick before every race, and completely elated when I cross the finish line.
I have several friends who compete in races regularly and they really love it, so maybe you will too.
This guide to getting started by fellow Sydney cyclist Ryan Mui is quite comprehensive if you'd like to take it a step further. Ryan advocates five simple steps to start bike racing:
Learn to ride in a group
Buy a race licence
Choose a race
Pack the essentials
Show up and race!
There are also occasional Come & Try racing events held by cycling clubs so keep an eye out on social media channels.
The other alternative to racing in a group is time trial events which can be done as an individual or as a group. Particularly in the individual time trial (ITT), you are racing against the clock. You've probably seen the ITT during the Tour de France. It's a great way to really push yourself but not race against other riders.
So if you're thinking of giving racing a go I recommend you jump in. You might surprise yourself and find you like it. If a non-sporty type like me can get something out of it, then anyone can.
Share your experiences of road bike racing, via comments or the Women Who Cycle Facebook page.