Meet the women of the Australian Commonwealth Games Cycling team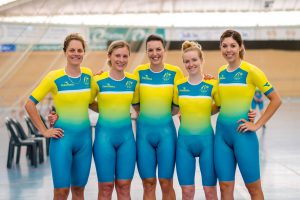 The Commonwealth Games on Queensland's Gold Coast start next Wednesday so I thought I'd introduce the women of the Australian Commonwealth Games Cycling team. Here's a rundown of the female Aussie cyclists who will be riding on the track, road and trails. The track program runs from Thursday, 5 April to Sunday, 8 April, with the women's road race on Saturday, 14 April. The women's time trial is on Tuesday, 10 April and the mountain bike on Thursday, 12 April 2018.
Defending scratch race Gold medallist and dual world champion Annette Edmondson, dual 2014 Games medallist and world champion Amy Cure and 2010 representative Ashlee Ankudinoff will lead the women's endurance squad.
Dual world champion Rebecca Wiasak, Rio Olympian Georgia Baker and rising star Alexandra Manly all receive their first Commonwealth Games' selections.
"It's really not that often someone gets to represent their country in a home Commonwealth Games in their career, so for me it's something very special that I'll never forget," said Amy Cure, a dual medallist from 2014.
"I am super excited to have the team pursuit on the calendar at the Games. I'm really excited to see what the team can achieve; as one of our three Olympic events, it's great to get another opportunity to race this race in front of big crowds," added Amy.
Australia's sprint crew is awash with Commonwealth Gold with defending sprint champion Stephanie Morton to form a formidable women's sprint duo with 2010 team sprint champion Kaarle McCulloch.
Track Team
Alexandra Manly – Endurance
Amy Cure – Endurance
Annette Edmondson – Endurance
Ashlee Ankudinoff – Endurance
Georgia Baker – Endurance
Rebecca Wiasak – Endurance
Kaarle McCulloch – Sprint
Stephanie Morton – Sprint
Triple world championship medallist and 2014 Commonwealth Bronze medallist Katrin Garfoot will head the six-member women's team with reigning road national champion Shannon Malseed, dual national road champion Gracie Elvin and 2010 Games Bronze medallist Chloe Hosking, who gains a third team selection.
2010 team member Tiffany Cromwell returns while Sarah Roy makes her debut.
Road Team
Chloe Hosking
Gracie Elvin
Katrin Garfoot
Sarah Roy
Shannon Malseed
Tiffany Cromwell
Mountain bike representative
The Aussie mountain biker Rebecca McConnell is hoping the home course advantage plays into her hands when she lines up against a world-class field.
"I have been fortunate enough to race on the course at the Nationals Series in January, it's a great course, with technical climbing and descending and the strongest rider will win," said McConnell.
So make sure you tune in to see the women of the Australian Commonwealth Games Cycling team showing us how it's done. Share your thoughts via comments or the Women Who Cycle Facebook page.