My story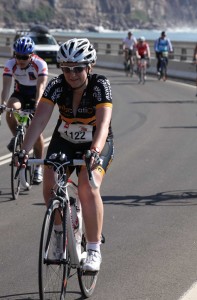 My name is Nicola and I live in Sydney, Australia. I started cycling in September 2008 simply to take part in a charity bike riding event and my interest and participation in the activity/sport has grown exponentially ever since.
In short – I love cycling. It has changed my life. Some might see it as bordering on obsession but the way I look at it, there are far worse things to be obsessed with or addicted to.
I've certainly never been the sporty type. In fact I've always believed I was so hopeless at any kind of sport it would be better for everyone if I just didn't participate. At school my extra-curricular activity was playing the flute in the school orchestra. I avoided sport and got away with it quite successfully. No one is more surprised than me that I'm now hooked on the sport of cycling.
It all started when my partner Phillip suggested I participate in the Juvenile Diabetes Research Foundation (JDRF) 80 km Ride for a Cure in January 2009 in the Barossa Valley. To me it sounded like the most extraordinary thing I could contemplate but somehow he persuaded me and we headed for the bike shop where I bought my first road bike – a Jamis road bike from one of my favourite retailers Anaconda.
I soon hit the road (literally as well as figuratively) complete with clip-in shoes and shiny new lycra outfits. I found this fabulous social riding group called BayBUG (Canada Bay Bicycle User Group) that rides on Saturday mornings around the local area and was hooked as soon as we met. As a result of joining this group (which is no longer officially BayBUG) I've gained heaps of new friends most of who live in the local area.
Sometime later I joined the local club LACC (Lidcombe Auburn Cycle Club) and I've even tried racing. Extraordinary for a woman who thought she was 'hopeless' at sport.
So now I ride most Saturday and Sunday mornings around the area, plus a couple of short mid-week early morning rides. Usually about 140 km per week. As a result I've never felt fitter which is pretty amazing for a 40-something year old. Better late than never.
I've also participated in lots of community and charity rides which are an excellent goal for training. These included Around the Bay in Melbourne, the Gong ride, the Tour Down Under community ride and plenty more. I call myself the tortoise. I'm never the fastest rider even in my own age/gender category but I always finish what I set out to achieve at my own pace and within my own ability. That's not to say I don't push myself.
I also upgraded my bike a couple of times and now ride a Specialized Amira road bike and enjoy riding even more.
My obsession has also extended to my working life. In 2013 I joined the staff of Ashfield Cycles as store manager and have never been happier.