Australian war hero Nancy Wake riding a bike across france in world war ii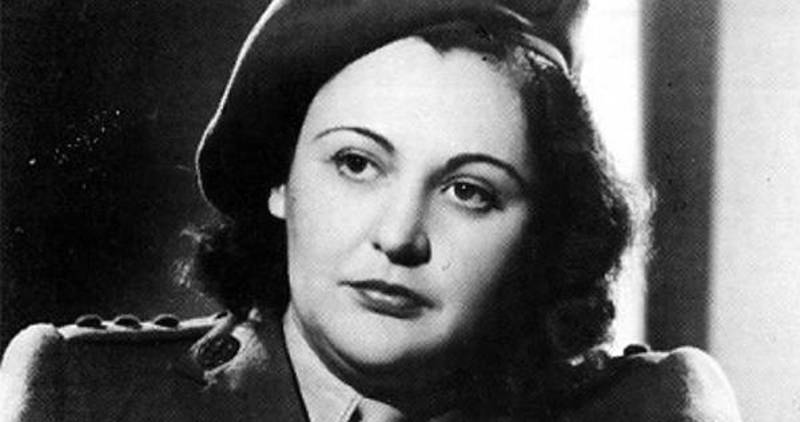 Today is Anzac Day in Australia so I thought it fitting that I find a story about an Australian woman riding a bicycle during a war, and I found such a story with Australian war hero Nancy Wake riding a bike through France during World War II.
Nancy Wake is relatively unknown by most Australians. So today I'd like to change that. Nancy was an extraordinary woman and was one of the most decorated soldiers of World War II, playing a significant role in the Allied resistance to German occupation.
Trained in hand-to-hand combat, espionage, sabotage, and able to drink almost all of her male counterparts under the table, Nancy Wake was known as one of the most fearsome French Resistance fighters during World War II. By 1942, the Gestapo had put her at the top of their most wanted list, offering a five million franc prize for her capture, dead or alive. They referred to her as the "White Mouse," as she had managed to evade capture several times throughout the war.
Aside from being a decorated soldier, Wake was a pioneering feminist who spoke loudly with her words and then backed them up with her actions.
I recommend you read Peter Fitzsimons' book about Nancy Wake which I read a number of years ago. In it, he recounts a tale of Nancy riding a round trip of 400 km over mountainous terrain from Auvergne to Châteauroux, because she needed to re-establish contact with London after her radio operator, expecting capture, burned the code books. She took responsibility because she felt that, as a woman, she had more chance of passing through the checkpoints.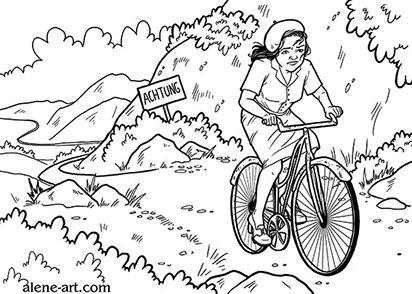 Some thought it was simply beyond Nancy's physical capabilities to cycle but she knew that her sex was an enormous advantage because the German soldiers were less likely to stop an attractive woman who looked like she was riding through her local village. Nancy found an attractive outfit and did her hair and makeup and headed off. She even had to commandeer a bike for the journey but as you can imagine it would have been a heavy upright style bike with few or no gears.
The first part of her journey was fairly easy as she criss-crossed the countryside on back roads where there would be few German soldiers who themselves feared ambush. Just 40 km in to her journey Nancy said that her legs felt like hot lead.
'It was absolutely imperative that even though I was exhausted and windblown from travelling so far, I not look that way. Whatever German patrols saw me had to think I was simply a young housewife tootling along home or to the village, who was not worth bothering with, but not someone on a major trip,' said Nancy in Peter Fitzsimons' book.
She also reported that if trucks of German soldiers passed and waved and called out to her, she just waved back in a demure fashion, even though she says 'I longed to break their fxxxing necks'. She managed to get through the entire journey without German soldiers stopping her to check her papers. Had she been stopped she would have had to talk her way out of any suspicions because she carried no weapon.
As she came within 50 km of her destination of Chateauroux there were many German checkpoints so she rode into the city indirectly. As she came close she passed a checkpoint, waving that she was happy to stop, and they simply waved her on.
She made it. She'd covered 200 km in just over a day and a half through enemy lines. But she couldn't stop and rest, she had to find the radio operator without an address but a detailed description of the surrounds so she cycled around town looking for the bistro that had been described to her. When she finally located him he refused to help so she found another who agreed to assist.
Once her mission was complete she then had to return and did so via the most direct route because she was completely exhausted. 'I really didn't have the energy to do anything else, so it was a relatively simple decision. Every time I turned the pedals I was racked with pain, so I wanted to turn those damn pedals the very least I could. Many times, I wanted to stop and have a pee, but I thought if I do I'll never get on again, so I had to pee my pants.'
Of all the things Nancy accomplished during the war she was reportedly most proud of her epic bicycle ride – 400 km in 72 hours. Peter Fitzsimons also wrote that Nancy never rode a bike again for the rest of her life and she lived to be 98, dying in 2011.
Did you enjoy reading the story of Australian war hero Nancy Wake riding a bike? Share via comments for the Women Who Cycle Facebook page.